Vegan Startup Launches "Cruelty-Free" Digital Coin
The company describes itself as a global decentralized vegan "nation" based on blockchain technology. A national vegan flag is in the works, according to a company spokesman
Israeli startup VeganNation Services Ltd. has launched a cryptocurrency, Vegan Coin (VCN), which the company calls the world's first "100% cruelty-free digital coin." The company describes itself as a global decentralized vegan "nation" based on blockchain technology. A national vegan flag is in the works, according to a company spokesman.

For daily updates, subscribe to our newsletter by clicking here.

VeganNation operates a platform where vegan consumers and businesses can connect and engage in an online marketplace for vegan products and services. The newly-minted VCN is designed to facilitate commerce between vegans, who could then boast an entirely plant-based lifestyle.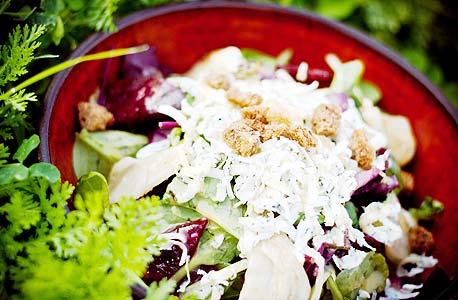 Vegan food (Illustration)

Founded in January, the company now employs a 25-person team.

VeganNation is hoping to sell $60 million worth of the coin, a spokesman for the company told Calcalist Sunday. Created on the ethereum platform, the company is currently selling the coin to private investors. Pre-sale began in March, and VCNs worth $8 million have been sold so far, according to co-founder Yossi Rayby.

The VCN will unite and empower the vegan community, VeganNation said in its one-pager. "A strong, united community will have a much greater ability to address the most important issues, and will make the vegan lifestyle more approachable for each and every member."

According to the company's website, in addition to ecommerce, VeganNation aims to harness its platform for sharing user-generated content such as recipes and articles, and even sharing food. According to Mr. Rayby, the company aims to use the platform as a type of Airbnb for prepared food, where home cooks could sell or exchange prepared dishes. "For vegans, it is a very big challenge, what am I going to eat today," he said, adding he believes food-sharing could work for the vegan community because it is very trusting and tightly knit.