Tourism Conference
Lufthansa to Launch Direct Service to Eilat This Winter, Says Israel's Tourism Minister
Tourism Minister Yariv Levin celebrates rising popularity of southern vacation spot Eilat
German carrier Lufthansa AG will begin operating four weekly flights to southern Israeli beach town Eilat, according to Tourism Minister Yariv Levin, who spoke Wednesday morning at a conference on tourism and technology held by Calcalist in Tel Aviv. Lufthansa later confirmed the service, saying it will begin operating October 28.

For daily updates, subscribe to our newsletter by clicking here.

Earlier this month, Calcalist reported that Lufthansa was considering a plan to launch direct service to the town.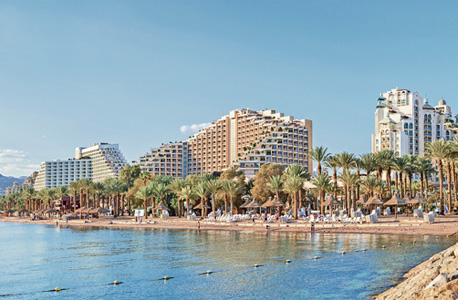 Eilat. Photo: Shutterstock

Levin celebrated the rising popularity of the southernmost Israeli city, which is located at the northern tip of the Red Sea. International tourism to once-popular Israeli vacation town is booming again, thanks to a 2012 reform that removed restrictions on foreign carriers offering service to Israel and a marketing campaign centered around the country's sunny weather, Levin said.

The reform on incoming flights has led to a substantial increase in the number of flights to the country, Levin said. "The biggest revolution is in Eilat," he said. In recent years, four weekly flights from Europe to Eilat and barely 500 tourists a week grew to 48 weekly flights and 7,000 tourists a week in 2017, Levin said.

On Monday, Israel inaugurated a new international airport that will serve Eilat and its neighboring towns. The airport, which was constructed at a cost of approximately $497 million (NIS 1.8 billion), is capable of housing up to 60 parked airplanes and is expected to accommodate around 2 million passengers a year. The airport is scheduled to begin regular operations at the beginning of 2019.