Israel and Europol Collaborate on Investigating Cybercrime, Terrorism
Israeli police and the Europol signed an agreement to collaborate on cross-border crime investigation, the Europol's first such agreement with a non-E.U. country
Israel Police and the European Union's law enforcement agency Europol will collaborate in battling cybercrime, terrorism, and fraud. On Tuesday, Israel Police Commissioner Inspector General Ronen Alsheich and Europol's Executive Director Catherine De Bolle signed a working arrangement to expand cooperation between the agencies. The agreement allows for the exchange of strategic information and the joint planning of operational activities, the Europol said in a statement.

For daily updates, subscribe to our newsletter by clicking here.

In a statement, the Europol defined cybercrime, terrorism, and fraud as "priority crime areas" which are affecting both the EU and Israel and would be addressed by the new agreement. The Europol also said that several of its past investigations into financial crimes had established links to Israel. "The Israeli contribution in such cases continues to be of utmost importance," the Europol said.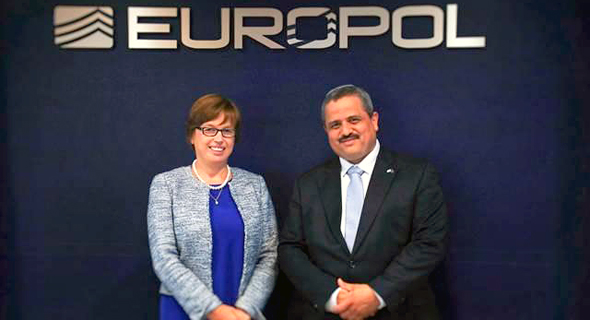 Catherine De Bolle and Ronern Alsheich. Photo: Europol

In recent years, a cluster of Israel-based firms operating trading platforms for binary options and forex have been the target of hundreds of lawsuits filed in E.U. countries.

Anti-terrorism activities have also been a major focal point for ties between the Europol and Israeli authorities. EU law enforcement agencies have begun to adopt Israel's predictive policing tactics, which include the policing and restriction of web use, to contain the threat of terror attack.

In 2015, the Europol set up its EU Internet Referral Unit to detect and remove what the agency deemed to be illegal content.

In these meetings, De Kerchove discussed the EU's plan to battle online incitement and the challenge of finding enough people who speak Middle Eastern languages to monitor content manually.