Third Chinese City to Open Economic Mission in Israel
Xiamen joins Beijing and Dongguan as it prepares to open a technology scouting office in Tel Aviv
Next month, Xiamen, a port city on China's southeast coast, will open a trade mission to Israel, becoming the third Chinese city to do so this year. The other two are Beijing and Dongguan, an industrial center in southern China.

For daily updates, subscribe to our newsletter by clicking here.

All three initiatives are designed to help facilitate business ties between Chinese companies and Israeli entrepreneurs offering technological innovation.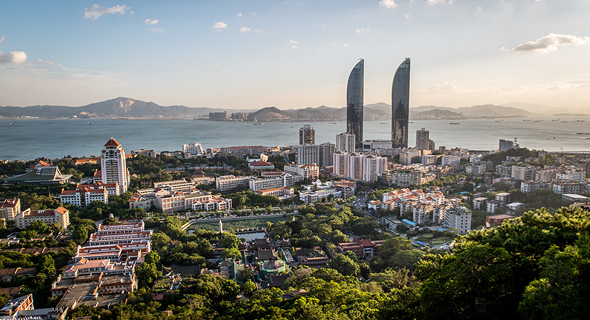 Xiamen, China. Photo: Shutterstock

Traditionally, Israeli businesses have looked to strike partnerships and market products in the U.S. and Europe where linguistic and cultural barriers are minimal compared to China. But a global realignment of economic and political interests and the growing reputation of Israel's tech sector have combined to open up new opportunities in East Asia.

The scale of Chinese cities—even modestly sized ones like Xiamen have millions of residents—means that that country's municipal governments are large enough to provide the foreign commercial aid usually supplied by the embassies of national governments.

Starting in August, representatives of the Xiamen Torch Hi-Tech Development Zone will scout for technological innovation for the Chinese city's largest companies from an office of Tel Aviv, according to an announcement made on Sunday.