Metabolism Hacking Company Lumen Scores Big with Diet Planning Device
Israel-based Lumen claims to offer a device that measures the gases exhaled in a single breath to supply users with a personalized diet and fitness plan
Lumen, an Israel-based company offering a metabolism tracking and nutrition device, has blown through its crowdfunding target on Indiegogo within four hours of listing last week. By now the company has raised almost $580,000 from 2686 backers, 1159% of its goal, and the campaign still has a month to go. The company sells a single respiratory device for $199 as part of the campaign, promising to start shipping the device to backers in February 2019, with manufacturing set to start in November.

For daily updates, subscribe to our newsletter by clicking here.

Established in Israel in 2014 as Metaflow Ltd., Lumen's founders include Daniel Tal, Dror Ceder, and Avi Smila–the founders of social toolbar applications developer Wibiya—and twin sisters Michal and Merav Mor, who have a Ph.D. in Physiology and are also passionate athletes who compete together in Ironman competitions and ultra marathons.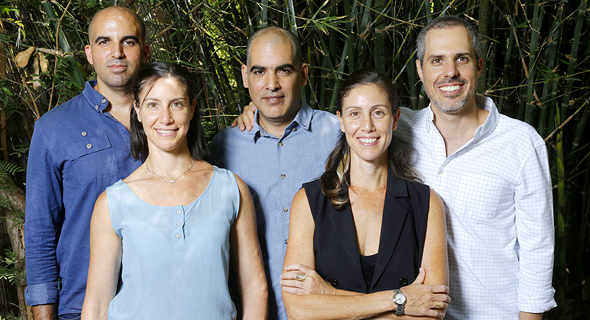 Lumen's founding team. Photo: Amit Sha'al

The company raised a few million dollars before the current campaign, initially by bootstrapping and then from Israeli tech investors including NFX co-founder Gigi Levy-Weiss. Israel-based Disruptive Technologies Fund led a seed round for the company, with participation from Israel-based Kaedn Capital and New York-headquartered RiverPark Ventures.

The device, currently in the prototype stage according to the funding page, relies on respiratory quotient (RQ), the ratio of CO2 production compared to oxygen consumption. QR reflects the relative contributions of fat, carbohydrate, and protein while food is metabolized, and is used to estimate metabolic rate. Accurate QR measurements require higher-end equipment and a trained professional over a period of some minutes to a few hours, but Lumen says its device can do it based on one exhaled breath. An app provides nutrition and fitness recommendations to the users based on the test results.

The company states its technology was tested in multiple studies, including in San Francisco State University and in a Tel Aviv hospital.

"We were very frustrated by the divide between the science world and the fitness world when it comes to having a healthy lifestyle," the Mor twins said in an interview with Calcalist held two weeks ago, explaining the reasoning behind the company. "The high-quality systems used in hospitals, universities and the sports industry are not available to private consumers for many reasons."

While Lumen says it will offer "daily personalized meal plans to help you lose weight and optimize your workouts" through its free app, Ceder told Calcalist it's about more than just what people eat. "Health is not just food, so we also check how people sleep and what kind of sports they do. We see what's happening inside the body and make people change their lifestyle accordingly."

The device negates a person's need to track their food consumption or actions, Ceder explained, because a single breath will be enough for the system to measure the relevant parameters and formulate pertinent advice for the day.

"You can't rely on one test to tell you what to eat for the rest of your life," Ceder said. "The body is dynamic and ever-changing and needs a suitable solution. Think of me as a nutritionist that lives in your pocket 24/7 and can tell you not just what you should or should not eat, but also what type of sport will be best for you currently: perhaps you should go out for a run, perhaps you should hit the gym."

The company's first prototype has been in testing since 2016, with a few hundred beta testers given the device in 2017.

On its crowdfunding page, the company claims users lost 6.8 lbs on average within the first month.

"Initially, we had to choose our goal, and we chose weight loss and fitness," Ceder said. "70% of those who follow the directions lose around 4 kg a month."