In Depth
Israel's Rick's Café for Russian Jewish Oligarchs
With Roman Abramovich as patron and dishes including caviar and hummus, "Shallot" is the stronghold of Israel's newest super-rich
A never-ending traffic jam is the hallmark of Tel Aviv's Ramat Ha'Hayal business district, home to some of the country's biggest tech and media companies. From the outside, Shallot restaurant is no different from numerous other establishments in the area—a wide-ranging mix of Falafel joints, and medium to high-end eateries. But on a good day, the personal wealth of Shallot's patrons can be in the billions.
For daily updates, subscribe to our newsletter by clicking here.
Sporting a modern design, Shallot is a stronghold of Israel's new super-rich. Roman Abramovich, one of Israel's wealthiest new citizens, dines here, sometimes with David Davidovich, his one-time assistant and now a billionaire businessman on his own right. Exiled oligarch Leonid Nevzlin is a repeating customer, sometimes dining with his son-in-law, Israeli lawmaker Yuli Edelstein.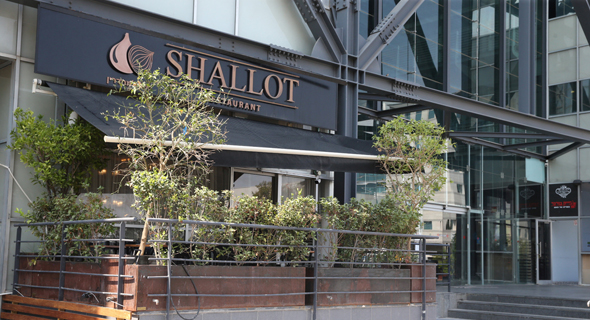 Tel Aviv's Shallot restaurant. Photo: Orel Cohen
At night, Shallot attracts the local Russian "glitterati." Vladimir Spivakov and Yuri Bashmet, two of the world's most famous violinists and conductors, are regulars.
Evening programming often includes musical performances and poetry readings.
The kosher menu is a mix of chicken kiev and caviar with the local hummus and tahini. It appears to fit the taste of the Russian elite, those who thought the shockwaves of the fall of the Soviet Union had passed and spared them, and are now fleeing Russian President Vladimir Putin's administration aided by an Israeli passport.
Abramovich is only one of a great many wealthy Russian Jews now becoming Israelis, if only on paper.
Russian immigration to Israel, which peaked in the early 1990s, has been on the rise lately propelled by the economic crisis in Russia. A drop in oil prices in 2015 kickstarted the new phenomena, but U.S. sanctions shifted things into a new gear.
The Israeli embassy in Moscow hasn't seen such crowds since the 1990s. Back then, over a million immigrants gushed out of the former Soviet Union and arrived in Israel struggling to acquire the language, get a job, and find housing. Over two decades later these immigrants, many working as engineers and scientists, are now hailed as the enablers of the quick rise of Israeli tech.
In the past three years, an average of 15,000 people left the former Soviet Union countries for Israel annually, twice the annual number of immigrants a decade ago. Over the past six months, waiting times at the offices granting Israeli visas went up from three weeks to three months.
Passport seekers include banking executives, local politicians, and media personalities.
An Israeli passport is an insurance. A Russian passport requires a visa for nearly any Western country. In accordance with Israeli legislation, the country grants citizenship to every person who has at least one Jewish grandparent.
"People use their Jewish ancestry to obtain a western passport that allows them to move more freely around the world," said Zvi Magen, who served as the Israeli ambassador to Russia in 1998.
As the owner of Russian Channel TV-2, Arkady Mayofis was one of the most powerful men in Russian media. The channel which promoted free journalism earned him unfavorable attention from Russian authorities, as did his association with former oligarch Mikhail Khodorkovsky, who got into trouble with Putin and was jailed for fraud in 2005. In 2014, a series of technical issues took out TV-2's broadcasts for long periods of time, and in 2015, the channel shut down, despite public protest.
Mayofis escaped Russia a day prior to TV-2's shut down, never to return. At the time, he had already obtained an Israeli citizenship and a house in Israel's affluent coastal town Caesarea, built next door to the home of Russian star singer Alla Pugacheva.
While in Israel, Russian top executives and businessmen prefer to meet in designer hotels, including the Ritz-Carlton in Herzliya, Tel Aviv's Norman boutique hotel, or the Waldorf-Astoria in Jerusalem.
Many of the newcomers now own luxury apartments in and around Tel Aviv, and in Caesarea. But the crown jewel is Netanya, around 20 miles north of Tel Aviv. Owners of real estate in Netanya include Russian business magnate Mikhail Fridman, actor and comedian Vladimir Vinokur, and singer Aleksandr Rozenbaum.
An entire industry of mediators and agents formed around these new Israeli citizens, pushing all kinds of deals, from companies for acquisition to investments in startups. Most times, they push real estate.
Alexander Vodovoz left his job as a risk analysis executive at Israel's Bank Hapoalim two years ago to set up BMC Mortgage and Finance, a mortgage consultancy for the newcomers.
Vodovoz and his colleagues scouted for potential clients in Russia. Those without Israeli citizenship can get real-estate financing of up to 50%, while new citizens can easily get financing of up to 70% of the asset price.
Heavy taxation is one of the biggest frights of Russia's businesspersons. When oil prices sank, Russia turned to the business sector for supplementary income. The Russian government has already announced its intention to increase income tax from 13% to 15%. In the meantime, it doubled down on collecting unpaid taxes using restrictions on owning and using foreign currency, and even jail time, as bargaining chips.
In Israel, Russian immigrants can benefit from a special exemption that was written into the books, dubbed the "Milchan Law." Named after Israeli billionaire Arnon Milchan, the law gives new immigrants a complete tax exemption for income originating out-of-state, as long as they identify Israel as their taxation center.
One of the main challenges facing the Russian newcomers is opening a local bank account. Israeli Bank Hapoalim, one of the country's two largest banks, requires all paperwork detailing a deposit origin to be approved by tax lawyers listed by Chambers and Partners or Legal 500, according to Eli Gervits, founder of Eli Gervits Law Office, a Tel Aviv-based company providing legal services to Russian speaking clients.
Even Abramovich, the oil tycoon worth nearly $12 billion, is having a rough time opening an account in Israel, according to people familiar with the matter who spoke to Calcalist on condition of anonymity. Only one medium-sized Israeli bank is still negotiating with Abramovich over opening an Israeli account, these people said.
"Even with proof of paid taxes, they are going to exhaust you," Gervitz said.