Cayman Islands Is Israel's Third Largest Source of Foreign Investment
Use of the offshore financial haven masks the true origin of money pouring into Israel's tech sector
The third most common source of foreign investment in Israel is the Cayman Islands, according to the Israeli government's Central Bureau of Statistics (CBS).

For daily updates, subscribe to our newsletter by clicking here.

Entities registered in the caribbean territory provided $6 billion, or 6.6% of all foreign funding, to Israel ventures in 2016, the most recent year for which data is available. The only countries that beat the Cayman Islands were the U.S. with 16.8% and the Netherlands with 12%.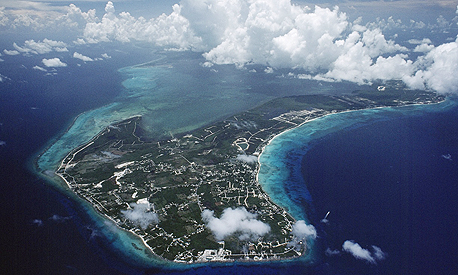 The Cayman Islands. Photo: Getty

The few other countries listed as "significant sources" of foreign direct investment are Canada, Singapore, Luxembourg, Switzerland, the United Kingdom, Sweden and France but they have tended to trail behind the big three. China, whose investing in Israel over the past decade has reportedly increased, does not make the list at all.

All this data is buried in the Israeli statistics bureau's report published in March, and the curious appearance of the Cayman Islands so high on the list seems to have gone unnoticed.

The Cayman Islands are not a country at all but an autonomous British Overseas Territory with a population of about 61,000 and the authority to determine its own financial regulations.

Contrary to the data, it is unlikely that the islands are swarming with investors hot on Israeli tech and real estate.

The Cayman Islands' has gained a reputation as an offshore financial haven due to lax oversight and protection of business secrets.

What the data reveals is that a significant number of foreign investors choose to route their Israeli business deals through the Cayman Islands, obscuring their real identities.

A spokesman for Bank of Israel said the data used in the report is provided directly by the foreign investors. Declining to reveal the names of the investors that recorded as coming from the Cayman Islands, the spokesman said, "they are a handful of large, well-known companies."

"If you' would hear their names, you wouldn't normally associate them with the Cayman Islands," the spokesman said.

The issue of secrecy in cross-border commerce has come to the fore in the wake of the 2008 financial crisis and a series of financial leaks from recent years like the 2016 leak of the so-called Panama papers.

The U.S. has moved to enforced laws against U.S. citizens shielding their money from tax authority and other scrutiny, putting pressure on global financial institutions that assist violators.