Abramovich's Israeli Homecoming Marked by Tech Investments and Tax Benefits
The Russian-born oligarch has a portfolio of more than a dozen Israel-linked startups and venture funds
Russian-born billionaire Roman arrived in Israel on Monday aboard his private jet. Unlike previous times, Mr. Abramovich came in order to become a permanent Israeli resident. The owner of Chelsea F.C., he had been living in London for years, but British authorities decided not to renew his investor visa in an apparent clampdown targeting Russian oligarchs.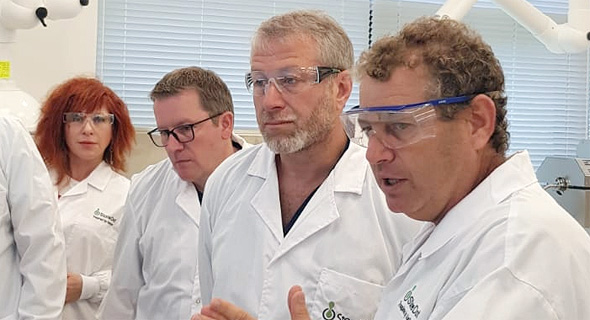 Roman Abramovich, second from the right. Photo: StoreDot

For daily updates, subscribe to our newsletter by clicking here.

The U.K. had said it would reconsider visas of rich Russians in the aftermath of the poisonings of former Russian spy Sergei Skripal and his daughter in the English city of Salisbury in March.

As a Jew, Mr. Abramovich is entitled to citizenship in Israel. Israeli media outlets offered conflicting reports on the status of his citizenship with some saying he was naturalized upon arrival, and others reporting he may have held an Israeli passport for far longer.

More than 30 Jewish Russian oligarchs have obtained Israeli citizenship in recent years, according to a recent report by the Associated Press. The country offers them a backup plan in case they get entangled, even wrongfully, in financial corruption cases or political showdowns. An Israeli passport promises visa-free travel to the European Union, tax benefits, and a certain level of protection against extradition.

Soon after landing, Mr. Abramovich visited the offices of Storedot Ltd., one of more than a dozen local startups and venture funds he has invested in since 2015. StoreDot develops fast-charging batteries for mobile phones, tablets, and laptops, as well as for electric vehicles. The company claims its advanced lithium-ion battery for electric cars can be charged in five minutes with a driving range of 190 miles. StoreDot has raised about $138 million from investors that also include Daimler and Samsung, and BP.

Mr. Abramovich has acquired equity in Israeli startups primarily through two investment firms that he controls: Ervington Investments Ltd. and Millhouse Capital LLC, according to data from IVC Research Center Ltd.

Besides StoreDot, the other well known Israel-linked startup with backing from Mr. Abramovich is Via, a ride-hailing service. Via Transportation, Inc., which has raised 387 million in equity funding, is based in New York but its founders are from Israel.

Additional startups linked to Mr. Abramovich's investment firms include AnyClip, a video content service; Driveway, the developer of a driving monitoring app; Gurushots, an online community for photographers; Spot.IM, which develops user engagement software for publishers; BrainQ, a medtech startup developing an electromagnetic device to help people recover from paralysis; Kidoz, a mobile network for children; and MedViser, a remote marketplace for medical consultations.

iAngels and AltaIR Capital are two Israel-linked venture capital firm with financial support from Mr. Abramovich.

Earlier this week, Tel Aviv University revealed that Mr. Abramovich donated $30 million for the construction of new building to house the Center for Nanoscience and Nanotechnology.

Tax exemptions

With his arrival in Israel, Mr. Abramovich became Israel richest person. His net worth is estimated by Forbes to reach $10.8 billion.

He made his fortune in oil and steel after the fall of the Soviet Union, as one of a handful of Russian citizens who managed to take control of the industries previously held by the government. Mr. Abramovich became a major shareholder in oil company Sibneft and aluminum company Rusal. In 2005, he sold his stake in Sibneft for $13 billion.

In 2015, Mr. Abramovich bought the Varsano boutique hotel for NIS 100 million ($28 million) from Yaron Varsano, who is the husband of Wonder Woman title star Gal Gadot.

His immigration to Israel could entitle Mr. Abramovich to a massive tax benefit. An amendment passed in 2007 appear to exempt him from paying taxes and reporting income earned abroad for a period of ten years. The amendment to Israel's tax law has been criticized for its potential to turn the country into a tax haven for people of Jewish descent.