Opinion
Recent M&A Deals Highlight Israel's Cybersecurity Prowess
A string of recent acquisitions of Israeli cybersecurity startups by public pure-play cyber companies solidifies Israel's position on the global cybersecurity map
Israel is a hub of global cybersecurity innovation, as illustrated by the acquisition of Tel Aviv-based cybersecurity startup Solebit LABS Ltd. by Nasdaq-listed email and data security company Mimecast Ltd. This takeover is another one in a string of recent acquisitions of Israeli cybersecurity startups by public pure-play cyber companies. MimeCast joins Symantec Corp., Palo Alto Networks Inc., and Proofpoint, all of which acquired companies during the last 12 months to boost their innovative technology stack, keep their competitive edge, and expand their product portfolio.
For daily updates, subscribe to our newsletter by clicking here.
With five Israeli and another five non-Israeli public cybersecurity companies that have a presence in Israel, the country continues to solidify its position on the global cybersecurity map. These companies are Mimecast, AVG, Palo Alto Networks, Check Point, Symantec, Proofpoint, CyberArk, Varonis Systems, Inc., Imperva, and Forescout. The combined market cap of these companies is $85 billion, which far exceeds that of pure play cyber companies without a presence in Israel, which totals $34 billion.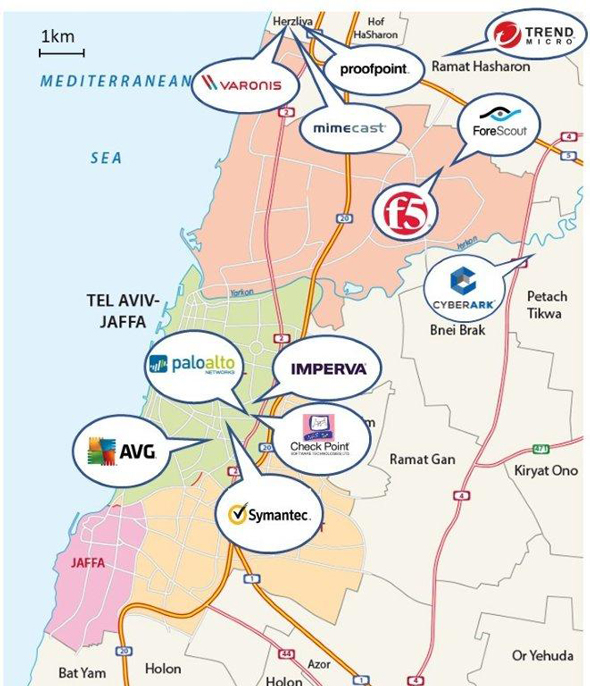 Cybersecurity companies with a presence in Israel. Map: Glilot Capital

Two major non-Israeli companies with a market cap over $10 billion are especially active. The first one it Palo Alto Networks. Founded by Israeli Nir Zuk, it has acquired Tel Aviv-based Cyvera Ltd., LightCyber, and recently also Secdo Ltd. The company is also rapidly expanding its Israeli R&D Center. Fun fact: This center is located right across its mega-rival, firewall pioneer Check Point Software Technologies Ltd. The second one is Symantec, which after having zero activity in Israel for many years, has now acquired Skycure Inc., a mobile security startup and Fireglass Ltd., a developer of a safe web browsing technology. Similar to Palo Alto Networks, Symantec is also expanding its local R&D center.

But it's not only pure-play security vendors that have a foothold in Israel. Nonpure plays such as Microsoft, Cisco, and IBM are also active within the Israeli ecosystem. Microsoft has a uniquely dominant presence with four recent acquisitions of Israeli startups: Aorato Ltd., Adallom, Inc., Secure Islands Technologies Ltd., and Hexadite Ltd. These takeovers paid off—most of Microsoft's security products and its Azure cloud security platform are now being developed in its Israeli R&D center. In addition to these public companies, there are also a growing number of private companies, such as McAfee, LLC, and AVG, which have active R&D centers in Israel thanks to acquisitions they made.

But that's not all. Israel is also the central hub for two other nascent and fast-growing sectors, namely automotive and industrial cybersecurity. Automotive cybersecurity startup Argus Cyber Security Ltd. was bought by Continental AG in 2017, and Samsung's Harman acquired TowerSec Inc. Automotive conglomerates such as General Motors and BMW have established R&D centers in Israel. As it looks now, Israel will be an integral part of the autonomous car revolution. On the Industrial cybersecurity front, companies such as Cyber X, Inc. and others are making their mark and grabbing the attention of global CISOs.

Israel being a small country, most of these companies are based within a 10-mile radius in Tel Aviv. This concentration is a huge benefit since it makes it easy for young companies to find and hire talent, for investors to meet founders, and for global players to scout and connect with potential partners.

So what will be the future of the Israeli cybersecurity innovation? Will it become a hub of R&D centers supplying talent and innovation to the U.S.-based behemoths or will it continue to create major market players along the lines of Check Point and CyberArk?

To answer this question, it's important to look at the strength of the Israeli cybersecurity ecosystem which is based on the following pillars:

* The vast pool of technology talent groomed by the military and other national cyber organizations. These experts join the private market at a relatively young age, eager to become the founders of the next big cyber companies.

* The talents coming out of local cyber companies have gained significant experience in developing enterprise software tailored to global markets.

* Commercial savviness which keeps on growing with the maturing and expansion of the Israeli ecosystem. Given the small size of the Israeli market, Israeli startups focus their market expansion mostly on the U.S. and Europe. As a result, CEOs and other business executives were able to become builders of public companies and serial entrepreneurs. Some famous examples include Shlomo Kramer, founder of Checkpoint and Imperva and now spearheading Kato Networks, Mickey Boodaei, who founded Trusteer and currently running Transmit Security, and Alon N. Cohen, founder of CyberArk.

* A community of experienced investors with a strong Israeli presence, who are experts at finding and backing early-stage cybersecurity startups.

All in all, we can conclude that the future for the Israeli startups looks bright as the ecosystem will continue to grow and generate more success stories. We can expect a new batch of Israeli companies going public within the next 2-5 years as well as more acquisitions of incumbents and new players.

Arik Kleinstein holds a MBA from Tel-Aviv University's Recenati Business School. He is a founding managing partner at Glilot Capital Partners, a seed and early stage venture fund focused on cybersecurity and enterprise software.