Opinion
The Israeli Ecosystem's Superpower Is its Global Thinking
Avichay Nissenbaum of Lool Ventures, an early investor in recently acquired Zooz, explains how the fintech startup highlights the advantage Israeli startups hold over companies from larger markets
Last week, online payment company PayU SA, announced that it has agreed to acquire Zooz, a Tel Aviv-based startup developing a payment platform. PayU is known as a leading financial services provider, operating in global growth markets. It is also the fintech and e-payments division of Johannesburg-listed internet Naspers Corp., a global internet and entertainment group and one of the largest technology investors in the world, most notably, a very early investor in Chinese internet behemoth, Tencent Holdings Ltd.

For daily updates, subscribe to our newsletter by clicking here.

When we, at Lool Ventures, first invested in Zooz, the company set out on a mission to solve one of the most complex problems for merchants, large and small, in the world of payments: removing the friction point for any transaction by processing payments faster, better, cheaper, in multiple currencies and markets, without having to deal with a multitude of intermediaries. Zooz has excelled at this mission, serving large global customers like WeWork, Wix.com Ltd., Gett and U.K. fashion brand Burberry Ltd. along with many more mid-market and small business merchants.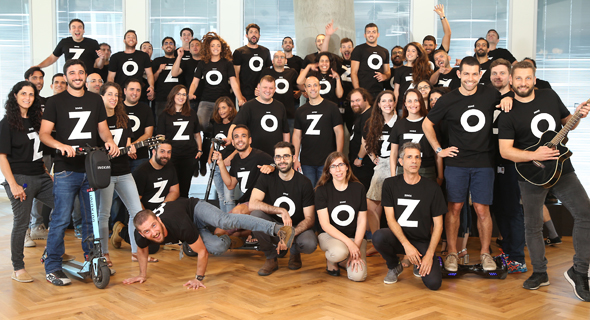 Zooz's team. Photo: Benni Forman

Fintech is an area that has seen a lot of innovation come from outside of the U.S., particularly in the area of cross-border payments and where multiple currencies are involved. As PayU CEO, Laurent Le Moal put it in an interview with Forbes earlier this week, "a fintech company from the U.S. will find it much more difficult to move into other markets." This is one of the few downsides of being a large market with a single currency, which has largely insulated the U.S. from these complexities. Conversely, Israel and Europe have punched well above their weight here, seeing the likes of iZettle AB (Sweden), Payoneer Inc. (Israel), Adyen NV (the Netherlands), TransferWise Ltd. (the U.K.) and Revolut Ltd. (the U.K.) amongst others, becoming global category leaders in their domain.

The need to think globally from day one is not without its' challenges — transcending geographical and cultural distances to understand and define customer needs and then effectively execute a sales and marketing strategy from Israel is no mean feat. But this challenge is the Israeli startup ecosystems' ultimate superpower. Global thinking from inception is a key differentiator between Israeli and U.S. startups and in Zooz's case, this played an important role in the company's success. PayU's acquisition of Zooz is another milestone that will serve to propel this momentum forward for the Israeli startup ecosystem. In that regard, it is similar to Facebook's acquisition of Tel Aviv-based startup Onavo Mobile Ltd. in 2013, which became the cornerstone of Facebook's Israel operations and saw the team leading the development of Facebook's product suite for emerging markets.

Being part of PayU presents a huge opportunity for the Zooz team to contribute to our vibrant ecosystem in Israel, nurturing and developing a new generation of experienced global product leaders who will build, ship and manage products that serve millions of customers globally.

This article was orginally published on Medium.

Avichay Nissenbaum is a general partner at Tel Aviv-based venture capital firm Lool Ventures.