Citing Stable Economic Outlook, S&P Gives Israel Its Highest Credit Rating Ever
On Friday, the credit rating agency upgraded Israel's rating to AA- with a stable outlook. The higher rating will enable Israel to raise credit with more favorable terms
On Friday, Standard & Poor's Global upgraded Israel's credit rating to AA- with a stable outlook, the highest rating awarded to the country to date, citing Israel's "exceptionally strong economic performance'" and stable economic outlook.

For daily updates, subscribe to our newsletter by clicking here.

The new rating—which Israel shares with six other countries, including the Czech Republic and Qatar—will enable Israel to raise credit under more favorable terms.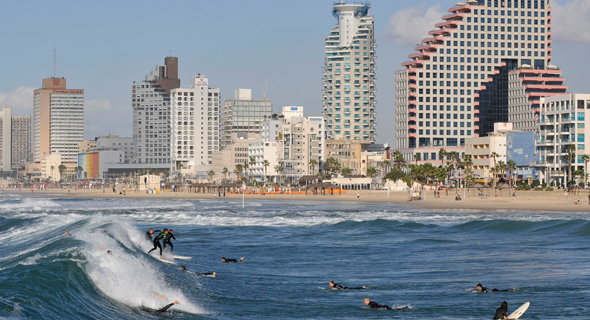 Tel Aviv. Photo: Bloomberg

The decision is a vote of confidence in Israel's continuous economic growth and in the government's ability to maintain prudent fiscal governance. The agency made note of Israel's declining general government debt over the past eight years, the historically low unemployment rate, diverse economy, and strong external balance sheet. S&P forecasted the country's GDP will expand at a rate of 3.3% until 2021, due to a strong labor market, private consumption, corporate investment activity and robust service exports.

While S&P mentioned Israel's relatively high public debt, it stated a reversal of the current debt path is unlikely. The stable outlook the agency gave Israel balances its potential for "stronger economic growth prospects" with elevated security risks.

S&P also referred to Israel's "highly fragmented" political situation, stating that while the government successfully passed the budgets for 2017, 2018 and 2019, a "diverse composition" of Netanyahu's coalition could impede its ability to address longer-term structural problems such as high real estate costs and the low participation of certain groups in the job market.

Last month, Moody's Investors Service upgraded the outlook of Israel's A1 government rating from stable to positive, following a June visit of agency analysts to Israel. The outlook means that the agency is not expected to downgrade Israel's rating this year, but if it chooses not to upgrade the rating, the outlook will return to stable. Moody's analysts referred to "Israel's favorable fiscal outcomes" and "strong institutional framework", as well as to the country's "increasingly resilient economy." Like S&P, the agency cautioned that Israel faces longer-term demographic challenges and significant geopolitical risks.

Israel has reached its best macroeconomic conditions over the past three years, Minister of Finance Moshe Kahlon said in a statement. The upgraded rating will save Israel billions of shekels that will be leveraged for the social ministries—health, education and social welfare, he said.

The decision reflects the confidence international institutions have in Israel's economic policies, said in a statement Bank of Israel Governor Karnit Flug. "The decision is further proof of the importance of continuing to decrease Israel's debt-to-GDP ratio, and of the impact the declining government debt has on Israel's economic robustness."