New Entrant to Israel's Equity Crowdfunding Club
Between 2012 and mid-2017, 145 Israel-linked tech companies were financed through equity crowdfunding firms
A new crowdfunding company is joining Israel's venture capital scene. Called Together, the company announced on Sunday it has received a license from the Israel Securities Authority.

For daily updates, subscribe to our newsletter by clicking here.

Equity crowdfunding has been around since 2012, when then President Barack Obama signed into law the U.S. legislation known as JOBSact—Jumpstart Our Business Startups. The legislation regulated and authorized funding of small businesses by easing many of the country's securities regulations.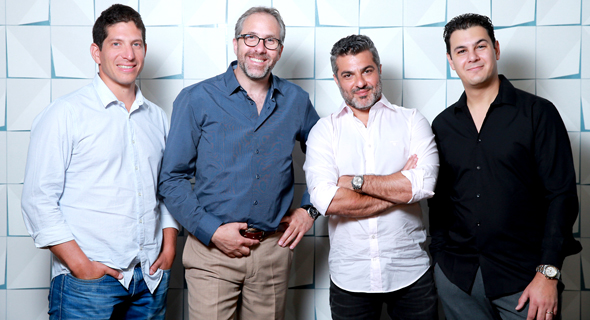 Together's founding team. Photo: May Binstock

According to a September 2017 report by IVC Research Center Ltd., a tech-focused Israel-based research company, between 2012 and mid-2017 145 Israel-linked tech companies were financed through equity crowdfunding firms. 2015 was the most prolific year for equity crowdfunding in Israel, with such platforms responsible for $57 million in investments over 50 deals that year, according to IVC.

In November 2017, the Israeli Parliament amended a series of regulations to ease fixed-income debt crowdfunding for startups and small businesses.

"Venture capital funds aim for later-stage ventures to limit risks, in turn limiting the ability of companies to raise early stage capital," Together co-founder and CEO Elad Shemesh told Calcalist Thursday. Young companies are therefore forced to rely on angels and funds that restrict them, he added, with an overwhelming majority of companies closing due to lack of capital.

Together intends to operate according to a model that limits risk while at the same time making investments more accessible to the public. Shemesh explains that the company intends to focus on seed and A rounds but invest only in companies that have already raised capital from venture capital firms, investment firms or known angels.

"It is important to us to make sure that the company's product is on the verge of entering the market, or of being distributed, or that the company has patents and intellectual property registered to its name," Shemesh said.

Together already has two companies in its portfolio: UPnRIDE Robotics Ltd., which develops a hoverboard-like device that enables disabled users to travel safely and independently in an upright position, and CardiacSense Ltd., which develops a watch-like device that tracks factors like arrhythmia, heart rate, oxygen saturation and blood pressure in users for early detection of stroke or cardiac arrest.