Metabolism Hacking Device Lumen Passes $1 Million on Indiegogo
The Israel-based company says its respiratory device can determine whether a user's body is burning fat or carbohydrates, and make nutrition and fitness recommendations accordingly
Metaflow Ltd., an Israel-based company offering a metabolism tracking and nutrition device called Lumen, has raised almost $1.162 million on crowdfunding website Indiegogo by Wednesday morning. The company's campaign has 15 more days to go. Lumen blew through its target sum of $50,000 within four hours of launching the campaign and is currently at 2324% of its fixed goal.

For daily updates, subscribe to our newsletter by clicking here.

Metaflow previously raised almost $6 million from mostly Israeli tech investors, including NFX co-founder Gigi Levy-Weiss, Wix co-founder and CEO Avishai Abrahami, and venture capitalist Oren Zeev.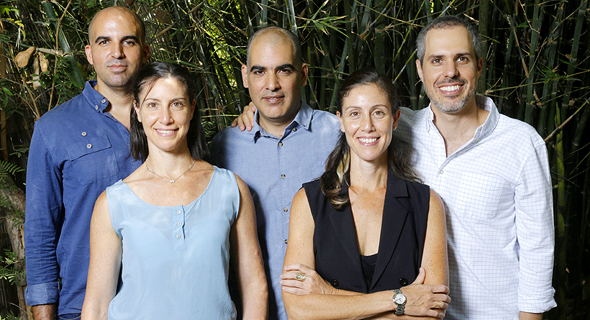 Lumen's founding team. Photo: Amit Sha'al
Under development since 2014, the Lumen device relies on respiratory quotient (RQ), the ratio of CO2 production compared to oxygen consumption. Lumen says its respiratory device uses QR to determine whether a user's body is burning fat or carbohydrates. An artificial intelligence-based app provides nutrition and fitness recommendations to users based on the test's results and personal goals.
The company intends to start shipping the device in February, and confirmed several times it expects to stay on schedule. It will eventually retail for $299, according to the company, but can be currently bought at a discount.