Tel Aviv-Based Flytrex Launches Airdrop Drone Delivery in Reykjavík, Iceland
Flytrex also launched 12 new routes for its drone delivery service, operated in collaboration with local food marketplace Aha
Tel Aviv-based drone delivery startup Flytrex Aviation Ltd., which collaborates with online commerce company Aha.is in operating an autonomous drone delivery system in Reykjavík, has launched an airdrop service and 12 new routes within the Icelandic city, the companies announced Tuesday.

For daily updates, subscribe to our newsletter by clicking here.

Flytrex's new airdrop service allows consumers to have takeaway and groceries delivered directly to their backyards by an unmanned aerial vehicle that lowers the package to the ground using a detachable wire.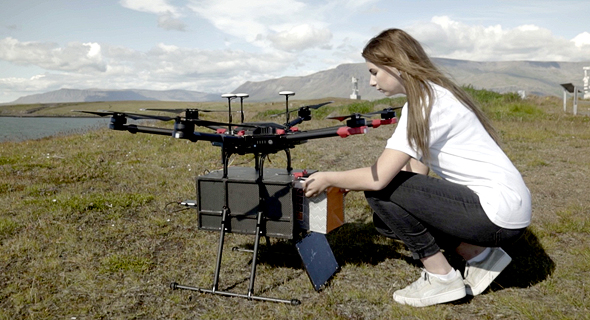 A Flytrex drone in Iceland. Photo: PR

Flytrex develops a cellular data communication module that can be attached to any drone, allowing operators to remotely control the vehicle using a mobile app.

Since their service launched in August 2017, Flytrex and Aha were only allowed to fly their drones along one route connecting two parts of Reykjavík which are separated by the Elliðavogur bay.

The new routes, approved by the Icelandic Transport Authority, cover about half of the city's territory and the companies plan to expand the service to every home in Reykjavík within the next few months, according to a statement. Per the authority's approval, the drones are allowed to deviate up to 700 meters from their route in order to make direct deliveries in approved neighborhoods.

Flytrex was founded in 2013 by entrepreneurs Amit Regev and Yariv Bash, who is also a co-founder of Israeli non-profit organization SpaceIL, which set out to land the first Israeli spacecraft on the moon in 2019.

Flytrex employs about 50 people and has raised $3 million in funding to date, according to Pitchbook data.

Launched in 2011, Aha offers a white-label local marketplace for food, groceries and small products from hundreds of sellers in Iceland, delivered by drone or electric car in 90 minutes or less.

CBS' online tech news magazine ZDNet first reported the story on Tuesday.