Rafael and Businessman Avihai Stolero File $116.6 Million Offer for Aeronautics
A police investigation launched in Israel in November 2017 has been hampering several of Aeronautics' deals and weakening its stock
Israeli defense technology contractor Rafael Advanced Defense Systems Ltd. has partnered with Israeli businessman Avihai Stolero to make a $116.6 million (NIS 430 million) acquisition offer on Wednesday for troubled dronemaker Aeronautics Ltd. A spokeswoman for Rafael confirmed the details of the offer on Thursday.

For daily updates, subscribe to our newsletter by clicking here.

As part of the suggested deal, Rafael and Stolero intend to buy all of Aeronautics' shares and delist it from the Tel Aviv Stock Exchange.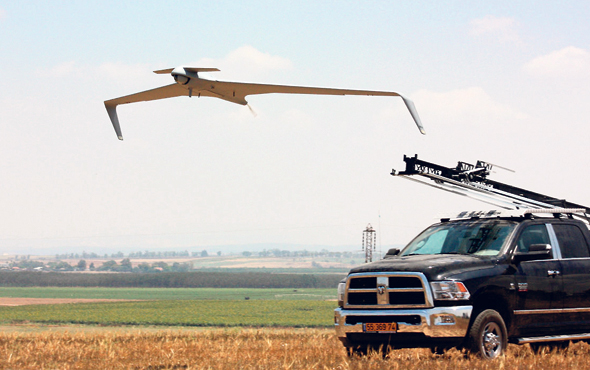 UAV by Aeronautics. Photo: PR

A spokeswoman for Rafael told Calcalist the offer is part of the company's international expansion plan.

Founded in 1997, Aeronautics specializes in the development of unmanned aerial vehicles (UAV) for military use and has over 45 defense, military, and homeland security customers worldwide. A police investigation in Israel regarding a deal Aeronautics signed with an undisclosed, non-Israeli client, which was launched in November 2017, has been hampering several of the company's deals and weakening its stock. An Israeli court issued a sweeping gag order on the investigation, which several Media reports linked to an incident in which Aeronautics had allegedly carried out a live demonstration of one of its suicide drones on an Armenian army post at the request of its client, the Azerbaijani army.

Aeronautics' stock has lost over 61% of its value since the company listed on Tel Aviv in June 2017. The company's stock is currently up as much as 11.9%.