Scientists on a Mission to Save Squashed Israeli Watermelon
After a barrage of complaints from consumers and sharp decline in sales, agricultural researchers are trying to bring the flavor back to the Israeli watermelon
The Israeli watermelon is in danger. The fruit best-associated with the long, hot Israeli summer has seen a decline in quality, and a sharp decline in sales. Consumers have been complaining about watermelon quality, and sales have gone down 40% in recent years, according to the Israeli Ministry of Agriculture and Rural Development.

For daily updates, subscribe to our newsletter by clicking here.

Israel produces some 150,000 tons of mostly seedless watermelons, all for the local market. The average Israeli consumes 20 kilograms of watermelon each summer. Both these figures are dropping.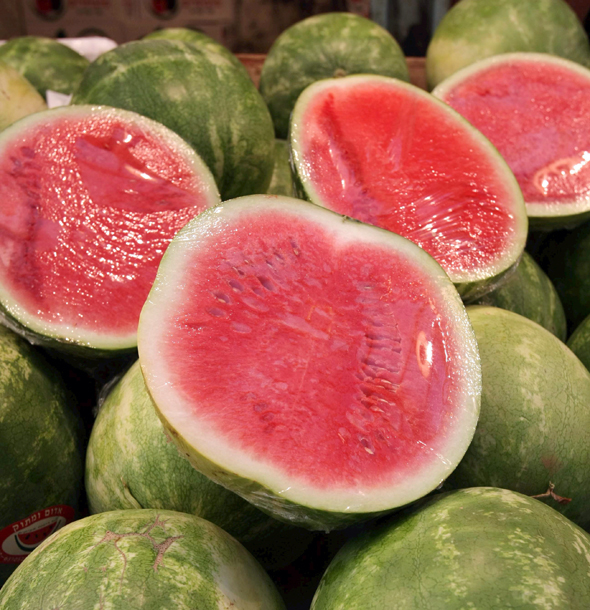 Watermelon. Photo: Amit Shabi

What's more, crop diseases have wiped out entire watermelon patches, turning what watermelons remain inedible. Now, a three-year research by Israel's Agricultural Research Organization is aiming to find out how to make the Israeli watermelon tastier, and more resilient.

According to Eli Fallik, a researcher at the organization, Israel's watermelons face two main challenges. The first is the accelerated pace with which viruses and pests spread throughout the country and attack watermelon crops. The second is the customary grafting of watermelon plants onto squash plants, a practice designed to make the watermelons more resistant to diseases spread at ground level. According to Fallik, when the grafting is inadequate watermelons can adopt the qualities of the squash, which damage the color, texture, and sugar levels of the fruit.

According to Fallik, in their search for more resilient and tastier fruit the organization's researchers have taste-tested hundreds of species of watermelons. In one potential breakthrough, researchers have had success with grafting together two species of watermelon, instead of using squash for grafting.