Update: Deal Reached Between Israeli Government and National Broadcaster Kan Over Eurovision Budget
Following prolonged negotiations, the Israeli Finance Ministry has agreed to reimburse the 12 million euros in securities Kan was required to submit by Tuesday, if the contest is canceled for any reason that is out of Kan's hands
Update: Israel's national broadcaster Kan and the Israeli finance minister have reached a last minute deal that will allow the Eurovision song contest to take place in Israel, Kan announced on its website Tuesday. Following long negotiations, the Finance Ministry has agreed to reimburse the 12 million euros in securities Kan was required to submit by Tuesday night, if the contest is canceled for any reason that is out of Kan's hands. The parties also agreed to negotiate the total budget for the event at a later date.
For daily updates, subscribe to our newsletter by clicking here.
Until Tuesday afternoon, the Israeli government and Kan continued to exchange blows over Eurovision budget. One person familiar with the matter who spoke on condition of anonymity told Calcalist that the government may even shut down the broadcaster, should it fail to meet the Tuesday night deadline for providing the securities required to host the song contest in Israel.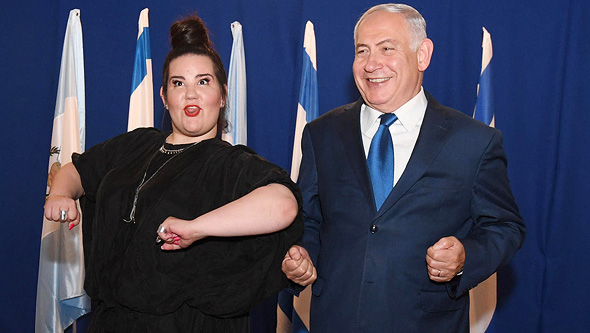 Netanyahu (right) with Israeli Eurovision winner Netta Barzilai. Photo: Haim Zach GPO

On Sunday, Kan's Chairman Gil Omer informed Prime Minister Benjamin Netanyahu that if the government will not commit to fully financing the three-day contest, Kan will not provide the securities required by the European Broadcasting Union (EBU), which organizes the annual event. In the letter, Omer also demanded the government commits to reimbursing Kan for the securities, should the event be canceled for no fault of its own.

If Kan's actions cause EBU to cancel Israel's hosting rights, Netanyahu may be able to shut Kan down without the objection of Finance Minister Moshe Kahlon, the person said. Netanyahu has been attempting to reorganize Kan since its reincorporation last year, as part of a reform initiated by no other than Netanyahu. In July, for fear of losing its hosting rights according to the Eurovision's regulations, Israel decided against splitting Kan and turning its news division into a separate independent entity, as Netanyahu intended.

The Israeli prime minister is currently being investigated in two separate cases regarding alleged attempts to influence local media outlets in exchange for regulatory favors.

The Eurovision, an international song contest in which representatives from several dozen countries contend over the public vote, is normally hosted by the country that won the previous year. Netta Barzilai's win in May is the fourth time Israel has taken home the trophy. Izhar Cohen and Alphabeta won in Paris in 1978; Israel waived its right to host the Eurovision in 1980, after winning for the second time in a row with Gali Atari and Milk and Honey in Jerusalem in 1979; and Dana International won in 1998 in Birmingham.