Anti-Tumor Freeze Blasting Technology to be Used in Israeli Hospital
Tel Aviv-listed IceCure Medical develops a medical device that provides a minimally invasive alternative to surgery
Tel Aviv-listed IceCure Medical Ltd., a company developing a minimally invasive medical device for treating tumors, announced on Wednesday it will start offering its technology in Israel in upcoming weeks. As of now, the procedure will only be offered in Israel by The Elisha Medical Center, a private hospital located in northern city Haifa.

For daily updates, subscribe to our newsletter by clicking here.

Founded in 2006 and headquartered in Israel's affluent coastal town Caesarea, IceCure's device is an ultrasound imaging-guided probe that injects liquid nitrogen into a tumor. The company states that the process, called cryoablation, takes 20-40 minutes, does not require hospitalization, leaves minimal to no scarring, and has a short recovery time. The destroyed tumor cells are then reabsorbed in the body over time. The company's device is approved in the U.S. and the European Union.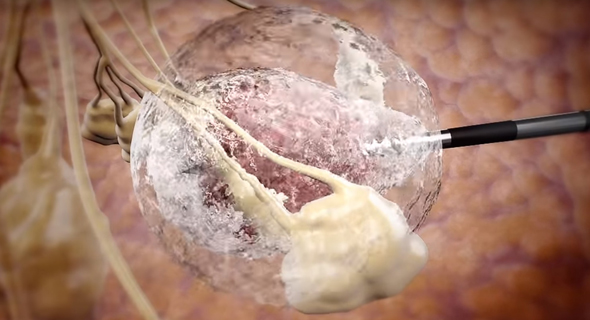 A rendering of IceCure's technology. Photo: IceCure Medical Ltd.

The treatment will be available in Israel to women suffering from fibroadenomas, benign breast tumors usually found in women under 30, and for patients with malignant kidney tumors. The medical center stated it intends to offer the treatment to women with malignant breast cancer in the future.

IceCure was up 15% on the Tel Aviv Stock Exchange on Wednesday market close and is currently trending up.