Interview
Under PepsiCo, SodaStream's Marketing-Savvy CEO Says He is Not Going to Pipe Down
Once the target of SodaStream's marketing barbs, PepsiCo announced it will acquire the Israeli outfit Monday. In an interview with Calcalist SodaStream's CEO said he has no intention to start playing nice
On Monday, PepsiCo Inc. announced it will acquire Israeli at-home water carbonation products company SodaStream International Ltd. for $3.2 billion in a bid to expand its sugar-reduced portfolio. The deal, expected to be completed in January 2019, will see SodaStream become a wholly-owned subsidiary of PepsiCo. At this point PepsiCo has no intention of relocating SodaStream's facilities in the future, CEO Ramon Laguarta said in a press conference held in Israel Monday.

For daily updates, subscribe to our newsletter by clicking here.

With Laguarta stood SodaStream's CEO since 2007, Daniel Birnbaum. An oddity among Israeli CEOs, Birnbaum is a marketing-savvy executive who does not shy away from political conflict. He is an outspoken critic of the religious encroachment upon public life seen in Israel in the past few years under Prime Minister Benjamin Netanyahu's right-wing government. When LGBT protests exploded in Israel in July following a surrogacy bill that failed to extend the right of couples to use surrogate mothers to the country's gay population, Birnbaum voiced unequivocal support. He has also spoken in the past against the Israeli government's plan to deport some 40,000 refugees and asylum seekers.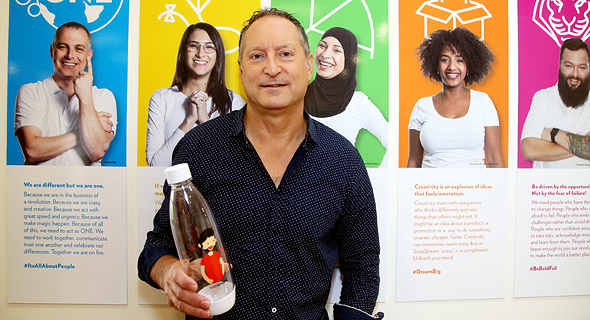 SodaStream CEO Daniel Birnbaum. Photo: Yariv Katz

"It's important for me to show there is a possibility for co-existence, that we're all equal," Birnbaum told Calcalist. in 2014, following a campaign spearheaded by the Boycott, Divestment, Sanctions movement (BDS), SodaStream relocated its facility from a Jewish settlement in the West Bank to southern Israel, letting go some 500 Palestinian employees as a result. Attempts to secure work permits for 74 experienced Palestinian employees failed, and despite first threatening to halt production in the facility, the company recanted. Today SodaStream employs almost 1,900 people in Israel.

At a time when left-leaning views often give rise to accusations of anti-patriotism in Israel, Birnbaum has his own brand of country pride. He said the company represents Israel "with 70 million products a year branded with the Israeli flag." Some of these bottles, he added, "make their way to households in countries that hate" Israel.

Birnbaum, who stands to make as much as $61 million off the deal when completed, calls the acquisition a vote of confidence in traditional Israeli industry. As part of the deal, PepsiCo has committed to keeping SodaStream's manufacturing facilities in Israel for a 15-year period.

"I could've asked for more, but when a lot of Israeli companies fire employees within a year of being bought, it's not usually done. We secured a job for thousands of families, it's unusual. It's a statement of commitment."

Birnbaum has spoken out against both PepsiCo and Coca-Cola in the past, and SodaStream's marketing strategy took direct aim at the leaders of an industry selling disposable plastic bottles. In an interview with Calcalist in 2013, he said that Pepsi and Cola could not buy SodaStream as they have an opposite business model. "We're not looking for an exit, we're looking to become mainstream," he said at the time.

"I spoke mainly against Coca-Cola," Birnbaum said Monday. "(PepsiCo) are bold enough to challenge their own industry, because that's where the consumer is heading." And SodaStream intends to keep its own identity as a subsidiary. At Pepsico, he said, he intends to remain "challenging."

"That's our job. I won't start being polite just because of the acquisition," he said.

What's next for Birnbaum? As part of the acquisition, he has signed up to stay as at SodaStream for at least three years, though he isn't ruling out staying longer. The stock cashout isn't going to make him change his current lifestyle, he added.

"I've lived in the same house for the past 15 years. I drive the same car. Maybe I'll upgrade my bicycle."