Opinion
PepsiCo Learned From Coca-Cola's Soda Flop
This week's SodaStream acquisition has roots in Coca-Cola's ill-advised 2014 plan to dominate the countertop soda machine market
PepsiCo Inc.'s acquisition of Israeli at-home water carbonation products company SodaStream International Ltd. for $3.2 billion earlier this week was preceded by another attempt by an international soft beverage giant to penetrate the countertop soda-making market. Nearly five years ago, in early 2014, PepsiCo's main competitor The Coca-Cola Company made a daring bid for the control of this growing market by buying a 10% stake in single-serve beverage company Keurig Green Mountain, Inc. for $1.25 billion. After two years and with several billions of dollars in investment, Coca-Cola's venture into the pod-to-beverage market was deemed a fiasco.

For daily updates, subscribe to our newsletter by clicking here.

It is likely that Coca-Cola's harsh lessons were taken into consideration when PepsiCo set its target on SodaStream, a well-established company with a large customer base. SodaStream reported a strong second quarter on August 1, with revenues of $171.5 million, a 31.3% increase year-over-year, and a net income of $26.1 million, an 81.7% increase year-over-year, credited in large part to a 22% increase in the sales of sparkling water maker units.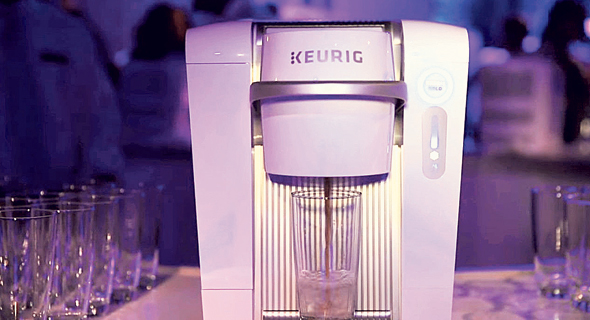 Keurig Kold. Photo: YouTube

Three months after its initial investment in Keurig, Coca-Cola bought an additional 6% stake, becoming Keurig's largest shareholder. Coca-Cola's goal was to leverage Keurig's aspirations to enter the soft drink brewing market. At the time, SodaStream was working hard to market its at-home soda maker as the cost-effective, sustainable, and green alternative to single-use bottled sodas. SodaStream's marketing tactics targeted Coca-Cola and PepsiCo, painting itself as a dark horse competitor to the two soft drink kings.

In the months following their deal, Coca-Cola and Keurig worked to develop an at-home soda making machine to compete SodaStream and similar companies. Keurig's and Coca-Cola's major advantage was perceived to be the unparalleled popularity of the Coca-Cola brands. Alongside the new Keurig soda maker, launched in September of 2015 and dubbed "Keurig Kold," the two companies offered syrup capsules for well-loved brand beverages such as Dr. Pepper, Snapple, and, of course, Coca-Cola.

Then, only nine short months after the celebrated launch, Coca-Cola shut down manufacturing of Keurig Kold citing low sales. It seemed that the popularity of the Coca-Cola brand was not enough to make up for the machine's higher price point and poor performance. Keurig's main flaw was the machine's price, $369 compared with SodaStream's basic model, which was retailing for $79 in the U.S. Keurig's single-use soft beverage capsules were priced between $0.99 and $1.29 each. SodaStream users paid between $0.08 to $0.20 per serving of beverage.

Keurig and Coca-Cola's collaboration was further plagued by their inability to react to the ebb and flow of the market. Consumption of sugary soft drinks has been on a steady decline for over a decade, as awareness of the dangers of sugar consumption is spreading. SodaStream's strategy primed it to benefit from the health-conscious trend by offering new lines of low-sugar, vitamin-enriched beverages. Coca-Cola, whose brands dominate the soft drink market, failed to realize at-home beverage makers wanted an alternative.

It did not help that many Keurig Kold users were unhappy with the machine. Common user complaints included notes on noisiness, the long time it took to reach the desired temperature, and the fact that it claimed too much counter space.

Following Coca-Cola's exit, in July 2016, Keurig laid-off its entire Keurig Kold manufacturing team, shutting down the Vermont facility where the machines were manufactured and announcing that all Keurig Kold users were entitled to a full refund. In the end, Keurig Kold proved to be one of Coca Cola's most scorching failures.