In a Push to Enter IoT Market, Check Point Develops a Mini-Firewall
CEO Gil Shwed has repeatedly stated that the next generation of cyber attacks—and consequently, the next demand for security products—will focus on Internet of Things
Nasdaq-listed network and cloud security provider Check Point Software Technologies Ltd. is notably taciturn about its operations, but a LinkedIn photo of CEO Gil Shwed uploaded last week provides a hint about a new company product.

For daily updates, subscribe to our newsletter by clicking here.

In the photo, uploaded by Check Point's head of strategic marketing and intelligence Moti Sagey, Shwed is holding a small, white, box-device. Check Point has not announced the device officially, but two people familiar with the matter told Calcalist that the company is working on a new product called Nano Security.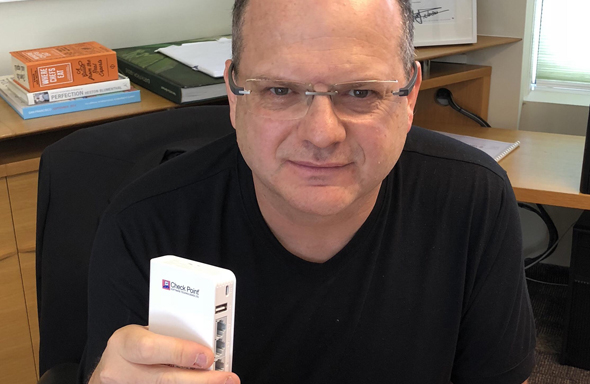 Check Point's new device. Photo: LinkedIn

Shwed has repeatedly stated that the next generation of cyber attacks—and consequently, the next demand for security products—will focus on Internet of Things (IoT). The market will demand a defensive solution, like in computers, that does not yet exist, he said.

Check Point's new device is part of the company's efforts in the domain, the people familiar with the matter said, adding that the company is developing it as part of a concept device. The still unlaunched product is a type of mini-firewall—Check Point's best-known product— on a small form factor, intended specifically for IoT products.