Following Government Ban, Juul Switches to Reduced-Nicotine Pods in Israel
On Monday, a ban on the sales of Juul's 5% nicotine pods in the country came into effect. Juul is contesting the decision in court
On Monday, an Israeli government ban on the nicotine-heavy pods of e-cigarette maker Juul Labs Inc. came into effect, prohibiting the company from selling any product with a nicotine content of over 20 mg in the country.

For daily updates, subscribe to our newsletter by clicking here.

On Sunday, Juul announced it has spent the past two weeks collecting its 5% pods from retailers in Israel and replacing them with 1.7% pods to adhere to the ban. The company is already offering the reduced-nicotine pods in the U.K., where it has to comply with European regulation, but in the U.S. and in its newest market Canada the company sells the full nicotine version.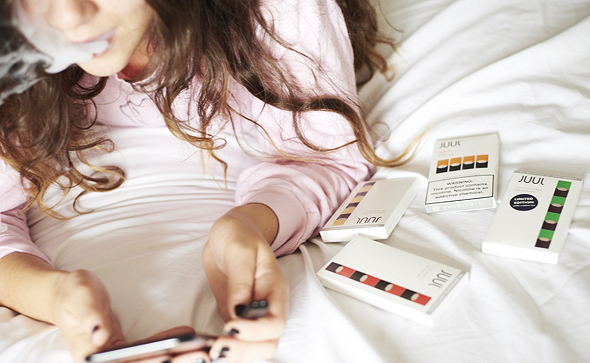 Juul. Photo: Bloomberg

First launched in 2015 in the U.S., Juul now controls around three-quarters of the U.S. e-cigarette market. The company states its product is intended to provide a healthier alternative for existing adult smokers, but Juul has been heavily criticized for both its high nicotine content and its great popularity among teenagers—specifically in regards to its earlier marketing campaigns, which features young attractive people and bright colors. The company is currently the subject of at least three lawsuits in the U.S., according to a July Wired report.

Juul entered the Israeli market in May, offering several flavors of its widely popular pods at 5% nicotine concentration, which is 59 mg per pod, equivalent to an entire pack of cigarettes. The company is currently contesting the decision in court, claiming it is the subject of targeted legalization. Last week, the Israeli Supreme Court rejected Juul's appeal to issue a temporary injunction against the ban until a decision is made in the case.

Despite there being no limit on selling the product to the underage in Israel, Juul is self-regulating to make sure all customers are over 18, Juul Israel CEO Assaf Snir said in an announcement Sunday. Juul intends to launch a public education campaign in Israel to explain the product's benefits to smokers, he added.