Mercedes, Ridesharing Company Via Bring Van Shuttle Service to Berlin
Operated in partnership with Berlin's public transportation authority BVG, the service currently covers about half the city on Friday and Saturday nights. It will gradually expand to the entire municipality, with 300 vehicles operating throughout the week
Daimler AG's van division Mercedes-Benz Vans and U.S-based shuttle-sharing company Via Transportation inc. have officially launched their ViaVan shuttle service in Berlin, Via announced earlier this week. The Berlin service, operated in partnership with Berlin's public transportation authority, Berliner Verkehrsbetriebe (BVG), was first announced in December.

For daily updates, subscribe to our newsletter by clicking here.

Already operating in London, Tokyo, Sydney, Chicago, and New York, ViaVan offers an on-demand ride-sharing shuttle service. Via's algorithm matches multiple passengers headed in a similar direction with a single large SUV or van that picks them up and drops them off at a location of their choice.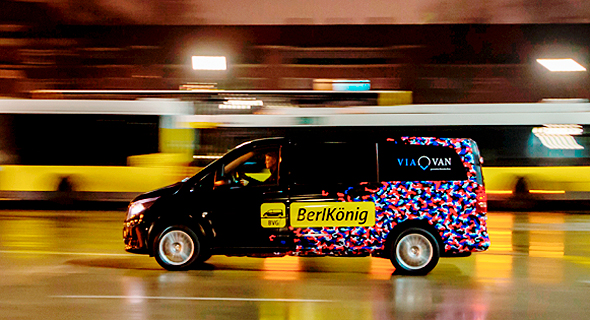 ViaVan and BVG's vehicle in Berlin. Photo: BVG

Initially, the Berlin service, dubbed Berlkönig, only covers about half the city on Friday and Saturday nights. It will gradually expand to the entire municipality with 300 vehicles operating throughout the week, according to a company statement. Via also announced a recently launched shared-transit service in Liverpool, in collaboration with European public transportation company Arriva PLC.