Automated Blood Tests Startup MeMed Raises $70 Million to Expand Offering
The company will use the funding to launch a new model of its blood testing device, and to expand the range of tests it offers
Israel-based automated medical diagnosis startup MeMed Diagnostics Ltd. announced Thursday it completed a $70 million funding round. The round was participated by China's largest insurer, Ping An Insurance Group Co of China Ltd., Jerusalem-based equity crowdfunding company OurCrowd Ltd., Hong Kong-based billionaire Li Ka-Shing, and electronics manufacturer Foxconn, among other investors.

For daily updates, subscribe to our newsletter by clicking here.

Founded in 2009, MeMed develops and markets an automated blood testing device capable of diagnosing whether an infection is bacterial or viral based on the presence of specific proteins in the blood. Early diagnosis can limit unrequired use of antibiotics, which are used to treat bacteria, not viruses. Incorrect administration of antibiotics not only poses a risk to patients and have a steep price tag, it can also lead to the creation of antibiotic-resistant bacteria, also known as "superbugs."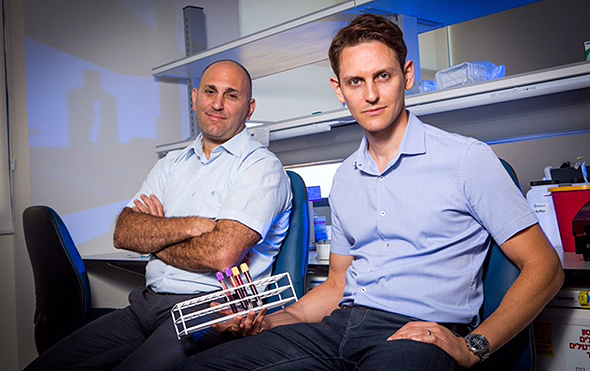 MeMed co-founders Kfir Oved (left), and Eran Eden (right). Photo: Shlomi Yosef

According to MeMed, its device, which is certified in the European Union, can provide highly accurate answers within minutes to hours, compared to traditional tests that can take days.

In an interview with Calcalist, MeMed CEO Eran Eden said that the company will use the additional funding to launch the second generation of its automated blood testing device, which can be used in clinics or by general practitioners without requiring access to a lab, and to expand the range of tests it offers. Eden said the company is looking to hire dozens of new employees.