Russian Private Equity Firm Da Vinci Acquires 8% Stake in Ride-Hailing Company Gett
Da Vinci acquired shares from existing Gett shareholder Moscow-based venture capital firm InVenture Partners as well as new shares issued as part of Gett's latest $80 million funding round
Moscow-based private equity firm Da Vinci Capital Management Ltd. has bought an 8% stake in Israel-based ride-hailing app developer Gett Inc. Da Vinci acquired shares from existing Gett shareholder Moscow-based venture capital firm InVenture Partners as well as new shares issued as part of Gett's latest $80 million funding round announced in June.

For daily updates, subscribe to our newsletter by clicking here.

The deal was first reported by Russian-language daily business newspaper Vedomosti on Sunday. A Gett spokesman confirmed the details in a message to Calcalist, Tuesday. The financial terms of the deal were not disclosed.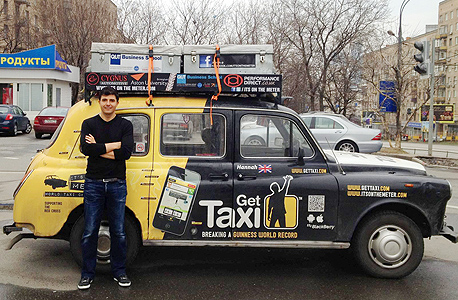 Gett CEO Shahar Waiser in front of a company taxi in Russia. Photo: Nimrod May

Update, Wednesday, Sept. 26: Da Vinci Managing Partner Dennis Fulling also confirmed the details in a phone interview with Calcalist, Wednesday.

Founded in 2010, Gett develops a ride-hailing app, also offering delivery services, in Israel, Russia, the U.K., and New York. In New York, Gett operates as Juno, itself an Israeli taxi hailing company it acquired for $200 million in 2017.

According to the latest financial reports filed in August by Stockholm-listed Gett shareholder Vostok New Ventures Ltd., Gett performs 100 million rides a year and "generates around $1 billion in mobility services." Gett is aiming to become profitable in 2019, according to the reports and previous statements by the company.