Russia's Yandex is Moving in on Gett's Home Turf
The decision to start operations in Israel is part of the company's global taxi expansion plans. In 2017, Yandex announced a merger between its taxi booking service and Uber's Russian operations
Russian multinational technology company Yandex N.V., which operates Russia's most popular internet search engine, is looking to roll out its taxi booking service in Israel. The company posted a job listing on LinkedIn two weeks ago, looking for a general manager for the service in Israel.

For daily updates, subscribe to our newsletter by clicking here.

According to the job posted, the company intends to launch a full-scale operation in Israel and is also looking for sales and marketing personnel. The ad also brings up the possibility of Yandex making local acquisitions in the domain. In 2014, Yandex acquired Israel-based KitLocate, a startup developing smart geo-location technology, and turned it into a research and development center, but has since shut it down.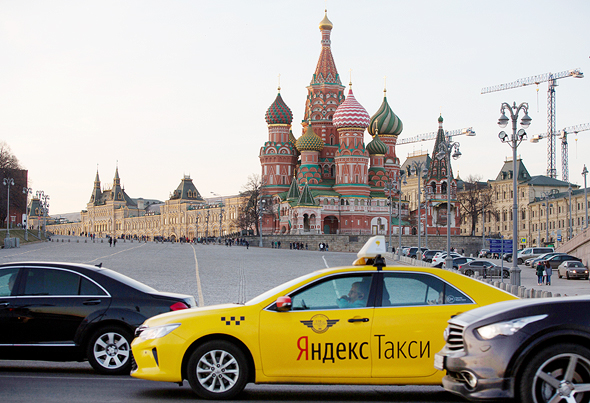 a Yandex taxi. Photo: Bloomberg

Several Russian publications recently reported the move, stating that Yandex has already begun signing drivers to the service in Israel and that the launch will take place in the near future. According to the reports, the decision to expand to Israel—where rival Gett is the undisputed market leader—is part of an expansion strategy Yandex is currently implementing in several global locations.

Following a request for comment, a Yandex spokeswoman stated the company "does not comment on gossip," but confirmed Yandex is interested in expanding its operations globally.

Yandex, dually-listed on Nasdaq and Moscow Exchange, offers internet-related services such as search and information services, mobile apps, and e-commerce, and also transportation and navigation services. The company reported adjusted EBITDA of around $504.8 million for 2017.

In 2017, Yandex.Taxi and then-rival Uber announced a merger of their businesses in Russia, Kazakhstan, Azerbaijan, Armenia, Belarus, and Georgia. Uber launched in Russia in 2014 and the competition led to a local price war. 59% of the joint business is owned by Yandex, while Uber controls 37%. In late 2017, following the merger, the business was valued at $3.7 billion, according to BBC News and Bloomberg.

Gett raised money in June according to a valuation of $1.4 billion.

Israel currently has around 21,000 taxis in operation. According to estimates by the Israeli Ministry of Transportation, around 72 million special taxi rides were made in Israel in 2017, at an average price of NIS 69, meaning the local taxi market turnover was around NIS 5 billion ($1.38 billion) in 2017.

This article has been changed to reflect the correct adjusted EBITDA Yandex reported for 2017 in dollars.