As Electric Scooters Take Over the World, Tel Aviv Stands First in Line
From tech workers to hipster moms, the electric scooter is fast becoming the new transportation mode of choice of Tel Aviv residents
Rothschild Avenue, one of Tel Aviv's central traffic arteries, is jammed. A line of vehicles has been stuck here for over ten minutes on a standard, end-of-August morning, waiting for salvation.

Meanwhile, at least a dozen electric scooters zip by, driven by a variety of characters: a bearded hipster; two tech workers with their employee badges fluttering in the wind; a young woman, tattooed from head to toe and sporting a bright pink helmet; a lawyer stuffed into a tight suit. A representative sample of Tel Aviv's populace.

For daily updates, subscribe to our newsletter by clicking here.

Here in Tel Aviv, the electric scooter is fast becoming the new transportation mode of choice. This modest vehicle, which weighs, on average, 12 kilograms and has a speed limit of 25 kilometers-per-hour, is steadily becoming an alternative to both bicycles and motorcycles.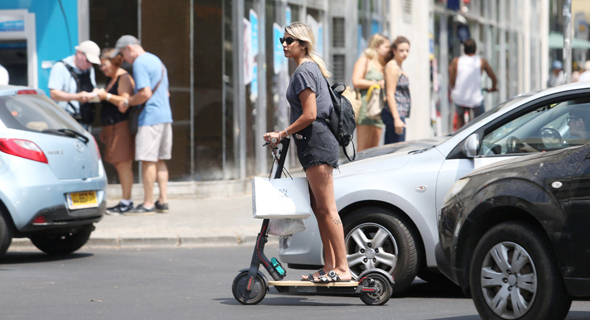 Electric scooter in Tel Aviv. Photo: Orel Cohen

The popularity of the electric scooter has reached a boiling point this year. "Every shipment we receive, some 1,000-1,500 units, is sold out before it even arrives," Avi Korenfeld, business development manager for Hemilton Electronics Ltd., told Calcalist in a recent interview. Hemilton is the official Israeli distributor of Chinese electronics company Xiaomi, whose scooters entered the Israeli market in 2017.

Daniel, a scooter rider speaking to Calcalist recently on Rothschild Avenue, said that he switched to an electric scooter after his bike was stolen. "It's fun," he said. "It's a lazy ride, it does not require any physical effort."

Jon Elias, a tech worker and scooter enthusiast, told Calcalist recently that while he owns two motorcycles, he travels almost exclusively by scooter. "It simply is more appropriate for the city," he said. "Where there aren't bike lanes, I just ride in the middle of the road, even when all the cars honk at me," he said. "Let them honk, at least they won't try to bypass me, so it is less dangerous."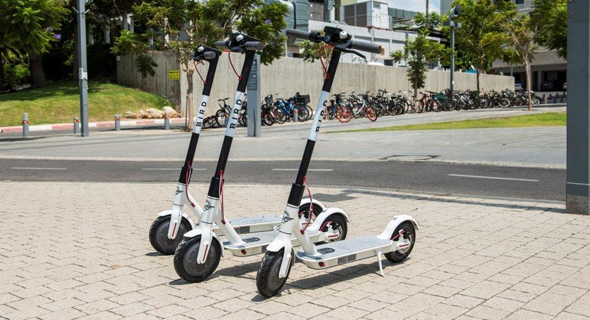 Bird electric scooters in Tel Aviv. Photo: Yanai Menahem

Earlier this month, Uber CEO Dara Khosrowshahi announced that the ridesharing giant is pivoting into scooter sharing. Uber's announcement came two months after its competitor, ridesharing company Lyft, announced it was entering the scooter sharing business as well.

Uber and Lyft are not alone. A slew of companies joined the scooter business over the past year, to immediate success. Bird, founded in 2017, has broken the record for the fastest company to achieve Unicorn status, in just eight months. A little over a year since its launch, Bird is already worth some $2 billion, and is active in more than 40 cities worldwide, including Tel Aviv, where it launched in mid-August. Tel Aviv is the second non-U.S. city to host Bird, after Paris.

In a recent interview, Patrick Studener, vice president of Bird, told Calcalist that during Bird's 30 days of activity in Paris, the city's CO2 emissions were reduced by 50 tons. "The bigger the city, the greater potential impact," he said.

Bird's main competitor is Lime (listed as Neutron Holdings Inc.). Since it was founded in 2017, it has raised $467 million from investors which include Uber and Alphabet. Lime is active in 70 cities worldwide and is valued at over $1 billion. Other players in the field are dockless bike-sharing company Jump Bike, listed as Social Bicycles, Inc., acquired by Uber for an estimated $250 million in April; dockless shared electric scooter company Spin, registered as Skinny Labs Inc.; and dockless shared electric scooter company Skip, registered as Waybots Inc.

Many question the inflated valuation of the scooter hawkers, but even they cannot deny the growing demand for the product—and the potential revenues if the demand continues to grow. In a May column, Crunchbase News editor Alex Wilhelm did the math behind Bird's $1 billion-valuation, calculating average ride costs and the number of rides as reported by the company in its published performance results. Bird had just reached 1 million rides the month before.

Based on his math, Wilhelm determined that if the company's growth trajectory continued, it could justify a $400 million valuation. "It's far harder to square a $1 billion valuation, however," he wrote.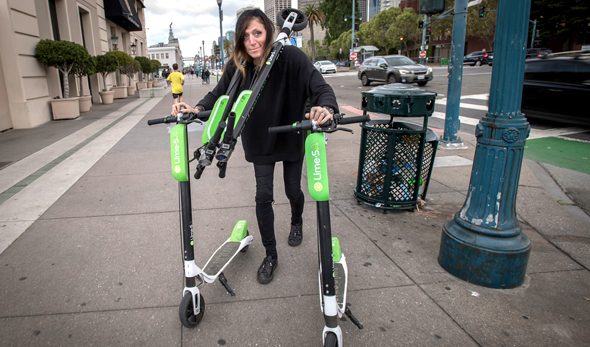 Lime scooters. Photo: Bloomberg

Today's scooters are light-years ahead of the wooden children toys of yesteryear, and even from the motorized scooters driven by mailmen in the U.S. in the 1920s. A major breakthrough occurred in the 1980s when light aluminum scooters were introduced. "Now you had a sturdy but very light transportation method that you could carry around. It was a revolution," industrial designer Nimrod Sapir told Calcalist in a recent interview. Sapir is behind Israeli scooter brand Inokim (short for innovation for the last kilometer).

Next, there was the electric revolution. In the early 2000s, companies such as Go-Ped and RazorUSA LLC launched commercial, lightweight electric scooters that became a commercial success. These scooters were marketed primarily to children and teens. The next step in the scooter evolution, and what set the course for it to become a preferred mode of transportation for adults, was the addition of the lithium battery and the folding mechanism, which made the scooter easier to use and more accessible.

Sapir is one of those who helped design the scooter revolution. In 2009, he bought a children's scooter at a toy store, took it apart, and used it to design his prototype for a lithium battery fueled scooter.

It took a long time for his rigged scooter to mature into a profitable product. After he was turned down by a number of investors, Sapir turned to family and friends to help him finance the manufacturing of his first series of motorized scooters. In addition to the lithium battery, Sapir's model was light and collapsible and could be opened with a press of a button. Sapir began selling his scooters privately in Tel Aviv in 2011. In 2013, he sold the company to a Chinese manufacturer who began marketing the scooters under the name MyWay. Two years later, Israeli entrepreneur Kfir Ben Shushan and his two partners bought a 50% stake in the company and began marketing the scooters under the name Inokim.

"In the first year we sold some 1,000 scooters in Israel," Sapir said. "The next year—we sold 5,000 scooters. This year we expect to sell 14,000."

Today, Sapir continues to serve as the product developer for Inokim. According to him, the next step in the revolution will occur when cities transform to become more compatible with scooters. There must be designated paths for electric scooters and bikes, he said.

Last year, Xiaomi, which has been manufacturing scooters in China for years, has adjusted its product according to European regulations. In late 2017, it entered the market in Europe and Israel. Xiaomi's business model is based on low-profit margins balanced by large-scale sales. While Inokim models sell from $1,508 (NIS 5,490) to $2,390 (NIS 8,700), Xiaomi introduced models for as low as $550 (NIS 2,000).

"In the past year, scooter sales have expanded like wildfire. I sell 1,000 units per month," said Daniel Elbaz, who imports Xiaomi scooters through his XiStore chain. Last year, he opened two scooter stores in Tel Aviv, and now he is preparing to launch a third store in the southern Israeli city of Eilat. "The technology has been available in the market for four or five years," he said. "The insane spike in sales is because of Xiaomi, which made the scooters more accessible. Buying a scooter used to be a well-planned event and now it is an impulse buy."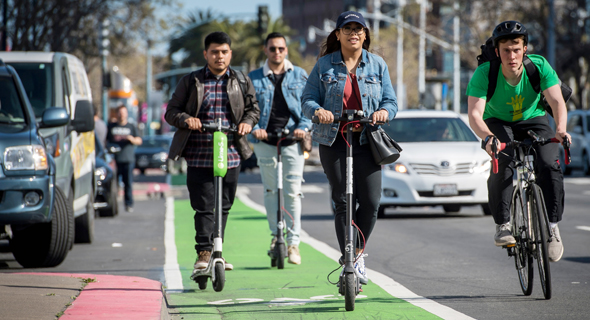 Electric scooters in San Francisco. Photo: Bloomberg

In Tel Aviv today, one does not need to shell out $550 (NIS 2,000) on a private scooter. Renting a Bird scooter costs $1.37 (NIS 5) per ride, plus another $0.14 (NIS 0.50) for every minute. Shared scooter companies are part of the dockless rideshare market—the scooters are located and rented via a mobile app from anywhere in the city and dropped off anywhere. Since the scooters must be collected and charged each night, users can take scooters home, charge them, and return them to a designated pick up point, earning as much as $8.24 (NIS 30) per scooter.

"When we deployed Bird in Los Angeles and Venice Beach they looked like aliens, but in Tel Aviv, they blend very nicely," said Yaniv Rivlin, general manager of Bird in Israel, in a recent interview. "Tel Aviv has exactly the properties our company is looking for: lots of traffic jams within the city, lots of millennials, and bike lanes that connect to the city's most popular sites."

According to Rivlin, Bird is not trying to compete with bicycles—either regular or electric—but rather offer an alternative to owning a car by providing a transportation for the last mile, making it more efficient to travel by public transportation.

A month after Bird launched its service in Tel Aviv, Inokim is working to launch its own scooter share model. According to Inokim's Ben Shushan, the company is looking to launch a 2,000-unit scooter rental service in Tel Aviv, later following up with a similar service in Eilat.

Ben Shushan said he does not believe a dockless service could last long in Tel Aviv and wants to work with local businesses that'll serve as docking points. "I do not believe the city of Tel Aviv will allow it," he said.

Ben Shushan's forecast is based on the short history of companies like Bird and Lime. Cities aim to control public areas, which is easier to do with designated docking points. Both Lime and Bird caused a public opinion outcry when they deployed their scooters in several U.S. cities without authorization. And then there are the safety issues brought on by large numbers of untrained riders taking over the city streets and roads.

In August 2017, international fashion model Shlomit Malka, who lives in Tel Aviv, suffered a head injury in a headline-making scooter accident on Rothschild Avenue. In May, Malka became a presenter of Israel's National Road Safety Authority, appearing in a campaign calling for scooter and bike rider to wear helmets. Then, in August, Malka's husband and one of Israel's better-known actors, Yehuda Levi, crashed into a pedestrian while riding a scooter. That incident, too, was widely publicized. It called attention to the potential dangers brought on by thousands of unregulated motorized vehicles zipping through the city's streets and roads.

In the U.S., where dockless scooters have become a reality in several major cities, many locals are protesting the sudden and unregulated takeover. "Bird scooters are ruining Venice" exclaimed the Los Angeles Times in a May headline. "Electric scooters might revolutionize urban transport—if it wasn't for stupid humans" was an April Washington Post headline. The article detailed public objection to shared scooter companies in San Francisco, reporting from an April hearing on scooters at San Francisco's City Hall.

In San Francisco, objection to electric scooters has led to a wave of vandalism that has been well-documented on social media, as users shared photos of scooters propelled into treetops, thrown into the waters of the San Francisco Bay, and, in multiple incidents, smeared in feces.

Scooter sharing company Spin recently reported that it loses, on average, 2.5% of its scooters per month due to vandalism and theft. As these companies grow, damages could add up to millions of dollars per year.

Judging by his comments to the media, Bird CEO Travis VanderZanden does not mind if his company's strategy ruffles a few feathers. In an April interview with the New York Times, he said: "go back to the early 1900s, and people would have a similar reaction to cars because they were used to horses." Like Bird and its competitors, sharing economy pioneers such as Uber and Airbnb have taken their fair share of heat, and persevered. Instead of disappearing, the world adapted. The future always wins.