Israel to Increase Regulation on Electric Bikes and E-Scooters
Following a series of high profile and deadly accidents, the Israeli regulator considers requiring underage users of battery-powered bicycles to pass a road safety test
As the number of fatal and nonfatal accidents involving electric bicycles and e-scooters in Israel rises, the country's Ministry of Transportation plans to implement new restrictions on the use of such vehicles.

For daily updates, subscribe to our newsletter by clicking here.

The planned regulations announced by the ministry Wednesday are expected to come into force by Jan. 1. As part of the reform, people between the age of 16 and 18 who do not have a driver's license for a two or four-wheeled vehicle will be required to undergo a short course and successfully pass an examination to gain permits for using e-bikes. The ministry also intends to increase enforcement of existing laws, which prohibit the use of electric bikes for persons under 16. It further suggests that bicycles ridden by users under 16 will be confiscated and that the eligibility for a driver's license for riders caught will be postponed for a year.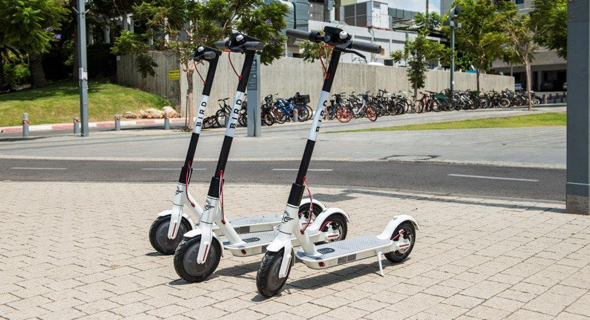 Bird electric scooters in Tel Aviv. Photo: Yanai Menahem

The ministry also determined a NIS 10,000 fine (approximately $2,745) for modifications to e-bikes intended to enhance maximum speed beyond the current limit of 25 kilometers per hour. Also announced was a "significant" yet currently undetermined increase in fines for violations of general traffic laws, which include using a mobile phone or headphones while riding. Fines for these offenses currently range at between NIS 100 and NIS 1,000 ($27.5-$275 approximately).

Current law requires bike users under 18 to wear helmets at all times, permitting those over 18 to ride without helmets when within city limits. In July, the Israeli government approved a proposal, which has yet to come into force, to mandate that all electric bike riders wear a helmet. The ministry is also considering issuing license plates for electric bikes and requiring users to wear high visibility vests and use standardized headlights when riding at night.

Israeli traffic laws consider scooters a type of bicycle, making them subject to all regulations and policies concerning bikes and electric bikes.

The new regulations were announced just one week after 17-year-old Ari Nesher, son of Israeli film director Avi Nesher, was killed in a hit and run. 20-year-old Israeli Premier League soccer player Yitzhak Asefa, who is being accused of hitting Nesher and another teenager who was giving him a ride on his e-bike before fleeing the scene, was allegedly driving under the influence of alcohol.

Nesher was the 16th fatality in an electric bike-related accident in Israel since the beginning of 2018, compared with 10 fatalities in 2017 and the same number the year before, according to data released in September by the Israel National Road Safety Authority.

Nesher's death was not the first high profile accident in Israel involving electric bikes or e-scooters. In 2017, fashion model and local celebrity Shlomit Malka suffered a head injury in a headline-making scooter accident on Tel Aviv's Rothschild Boulevard. Malka later became the face of a campaign by the country's National Road Safety Authority, calling on riders to wear helmets. In August, not far from the site of her accident, Malka's husband, Israeli actor Yehuda Levi, sent a pedestrian to the hospital after crashing into her on an e-scooter.

In a Facebook post earlier this week, Israel's Minister of Transportation Yisrael Katz said there are currently over 250,000 electric bikes in Israel. In addition, local residents can also rent the currently unregulated e-vehicles on a pay-per-use basis from Los Angeles-headquartered electric scooter-sharing company Bird Rides Inc., which launched a pilot program in Tel Aviv in August. In a September interview with Bloomberg, Caen Contee, vice president of international expansion for smart-mobility company Lime, confirmed earlier reports that the California-headquartered company, incorporated as Neutron Holdings Inc., is also looking to bring its service to Israel, offering on-demand regular and electric bicycles as well as e-scooters.