Israel to Ban Logos, Visual Branding on Cigarette Packs
On Monday, an Israeli parliamentary committee has decided to ban logos and other visual branding elements on cigarette packs sold in Israel
On Monday, the Israeli parliamentary Economic Affairs Committee has agreed to ban logos and other visual branding elements from cigarette packs sold in Israel. The decision was backed by the Israeli Ministry of Health. The motion will be included in an upcoming amendment to the law banning advertising and marketing of tobacco products.

For daily updates, subscribe to our newsletter by clicking here.

The motion, which has wide-spread parliamentary support, is expected to be approved when presented before the parliament. If approved, all cigarettes packs sold in Israel will be uniform, bearing only the brand name and the mandatory warning about the dangers of smoking.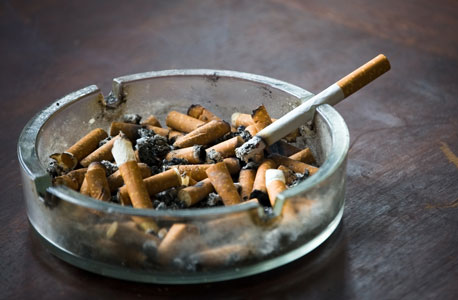 Smoking (illustration). Photo: Shutterstock

According to 2015 data by the Tobacco Atlas, an online resource mapping global tobacco use that is backed by the American Cancer Society, 41.2% of adult men and 19.3% of adult women in Israel smoke tobacco on a daily basis.

According to data by the World Health Organization from 2016, 25.4% of Israelis aged 15 and up smoke tobacco products.

Smoking is banned in public spaces in Israel. In May, the Israeli parliamentary Health Committee approved a health ministry directive that expands the smoking ban to all outdoor events attended by more than 50 people. In addition, smoking is prohibited in hospitals, public institutes, courts, religious councils, pools, and sporting arenas. Smoking is also banned within a 10-meter radius of kindergartens, schools, and government offices.

In September, an Israeli government directive banned the sale of Juul's full-nicotine e-cigarette pods due to their high nicotine content, forcing the company to recall the pods and replace them with a lower nicotine version.