Jerusalem Train Proves Projects Left in the Oven for 17 Years May Still Be Half-Baked
Service on the new Jerusalem express train, which only covers half of its originally planned route, was once again interrupted early Tuesday morning due to crucial electricity work conducted on the tracks
The Israeli government has accomplished the seemingly impossible, proving it can produce half-baked results, even after 17 years in the oven. Service on the new Jerusalem express train, which only covers half of its originally planned route, was once again interrupted early Tuesday morning with four trains delayed over a one-hour period due to required electricity work on the tracks, which was scheduled to be completed during the night.

For daily updates, subscribe to our newsletter by clicking here.

The new route is part of an ambitious plan to connect Jerusalem and Tel Aviv through a 28-minute express train. The plan was first approved by the Israeli government in 2001 and originally scheduled for completion by 2008. The partial route, which ends at Ben Gurion International Airport, 19 kilometers southeast of Tel Aviv, began operating in pilot mode late last month, with trains scheduled twice every hour.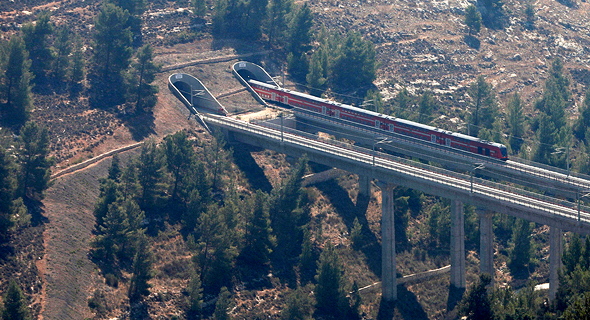 The train entering a tunnel in the Jerusalem mountains. Photo: Reuters
On Monday evening, the train came to a halt inside a tunnel and had to be towed back to its origin station at Ben Gurion Airport, where passengers waited for service to resume. After beginning their 24-minute journey from the airport at 5:31 p.m., the 150 passengers who were on the train, finally arrived in Jerusalem around three hours later. On Sunday, three early morning trains were canceled and service on the route was interrupted again later that morning for another four hours, for maintenance work. Last week, service on the route was interrupted following a nearby water pipe explosion, which flooded the tracks.
An emergency meeting of the Israeli parliamentary Economic Affairs Committee concerning the frequent interruptions of service on the route is scheduled to take place early Wednesday morning at the Israeli Parliament in Jerusalem.
The complete 57 kilometer-long route has no official launch date. As of this time, the only train connecting Tel Aviv and Jerusalem runs a 90-minute route first built by the Ottoman Empire in 1892.