Israeli Haifa Chemicals Attracts a New Bidder
Israel-based specialty fertilizer manufacturer Haifa Chemicals is one of the biggest global suppliers of potassium nitrate
Israel Chemicals Ltd. (ICL) may have a rival in its bid for Israel-based specialty fertilizer manufacturer Haifa Chemicals Ltd., first reported by Calcalist on October 4. According to one person familiar with the matter who spoke with Calcalist on condition of anonymity, Santiago, Chile-headquartered Sociedad Química y Minera de Chile S.A. (SQM) is also in talks for the acquisition of Haifa Chemicals.

SQM has been approached for comment but has yet to respond.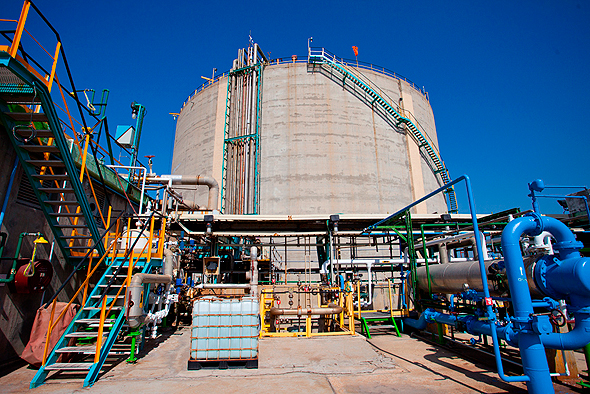 Haifa Chemical's ammonium tank. Photo: Pini Chemo

Haifa Chemicals was founded in 1967 as a government-owned venture intended to develop and capitalize on Israel's natural potash resources in the Dead Sea and Negev areas. The company was privatized and in 1989 acquired by Trance Resource Inc., a U.S. holding company controlled by the Trump Group. There is no connection between the group and current U.S. President Donald Trump. ICL is Haifa Chemical's sole potash supplier.

NYSE-listed SQM controls a major part of the global market for potassium nitrate, Haifa Chemical's main product. SQM holds a 48% share of the market for agricultural applications, while Haifa controls 33%. For industrial applications, SQM holds a 28% share and Haifa 23%.

30% of SQM, which reported revenues of $2.17 billion and profit of $427.7 million for 2017, is held by Julio Ponce Lerou, the former son-in-law of the late Chilean dictator Augusto Pinochet. Pinochet's government privatized the company in the 1980s, through an agency run by Lerou. Lerou and other major shareholders recently filed a motion in Chilean court to block the sale of a 24% stake in SQM to China's Tianqi Lithium Corp.

Calcalist previously reported the asking price poised by the owners of Haifa Chemicals tops $1 billion.

In 2017, Haifa Chemicals was forced by an Israeli court citing public safety concerns to shut down an ammonium tank it had in Haifa, leading it to temporarily close the entire facility. In June, the company announced it is considering possible alternative operations at the location. The company has two more active ammonium facilities, one in Israel's south and the other in France.