ARM to Partner with Cybersecurity Firm Cybereason to Develop Secure IoT Chips
ARM has come to dominate the mobile market with its designs of energy efficient chips and is forecasted to be a major player in the future market of connected devices
U.K.-based Softbank-owned chip designer Arm Holdings PLC has partnered with Boston-headquartered cybersecurity company Cybereason Inc. to develop secure chip designs, the latter announced on Wednesday. The secured chips are intended to be used in connected devices and sensors, the company said.
For daily updates, subscribe to our newsletter by clicking here.
ARM has come to dominate the mobile market with its designs of energy efficient chips, and is forecasted to be a major player in the future market of connected devices. By the year 2035, the companies anticipate the secured chip design to be used in one trillion devices, Cybereason said in its announcement.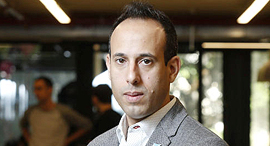 Cybereason's CEO. Photo: Amit Shal
Established in 2012 by Israeli military intelligence units veterans, fast-growing Cybereason specializes in endpoint detection and response software. The company has raised $189.5 million to date. $160 million was invested by the Softbank in two separate rounds.
Softbank acquired Arm in 2016 in a $32 billion deal. Earlier this year, Softbank confirmed that it sold 51% of ARM's China unit. ARM bought Israeli chip security company Sansa Security Inc. in 2015.