Interview
What Walmart's New Content Initiative Means for Interactive Videos
Last week, Walmart announced a joint interactive video venture, partnering with Eko, the company behind the critically acclaimed music video for Bob Dylan's "Like a Rolling Stone"
When Israeli musician and tech entrepreneur Yoni Bloch first met with representatives of American retail giant Walmart Inc. he was not all that excited. "I did not realize how huge they were," he told Calcalist in an interview earlier this month. It was only after that initial meeting, and after he had read "Made in America," the book by Walmart founder Sam Walton, that he realized what Walmart meant. "It is the origin of the American dream," he said.
For daily updates, subscribe to our newsletter by clicking here.
Bloch is a co-founder of Eko, an interactive multimedia video creation and distribution company. Last week, Eko and Walmart announced the launch of a joint video venture, W*E, to develop original interactive content, "from cooking shows to interactive toy catalogs."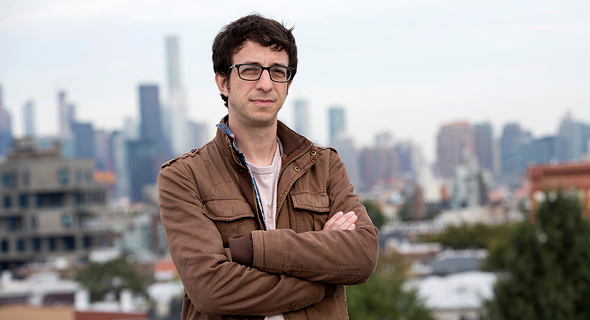 Eco Co-Founder Yoni Bloch. Photo: Nadav Neuhaus
While the companies did not disclose financial details of the deal, a source familiar with the matter who spoke with Calcalist on terms of anonymity said Walmart will invest $300 million in the joint venture. Walmart's American dream is now Eko's, and Bloch's, too.
"Walmart is undergoing a revolution," Bloch said. "It is still the world's biggest retailer but people are finding it difficult to see what its future holds" as it vies with technology companies. Walmart, Bloch said, wanted to leapfrog existing trends, instead of following what other companies were doing.
Based in both Tel Aviv and New York, Eko employs around 30 people at each of its offices. The company raised around $62 million from investors including Intel Capital, Sequoia Capital, Samsung, Sony, and MGM, according to Bloch.
Using Eko's technology, W*E will develop original content designed for Walmart's targeted audiences. Viewers will be able to actively participate in and affect videos as they unfold. While watching a cooking show, for example, viewers could choose which pasta dish the chef will demonstrate or the angle from which they will watch as he cooks. Of course, there is a built-in revenue stream. Viewers would be able to shop for items from the videos with a click of a button.
Bloch will lead W*E together with Nancy Tellem, Eko's chief media officer and executive chairwoman and a former president of CBS Television Studios.
According to Bloch, the move towards interactive video is like the move from silent film to "talkies." It might take a while to get there, but eventually, content creators and audiences will see the unique value in interactive formats, he said.
Bloch the musician's first album came out in Israel in 2004 and went on to write and produce songs for some of Israel's brightest musical stars. In 2010, he partnered with musicians Barak Feldman and Tal Zubalsky to launch interactive video startup Interlude US Inc., which was later renamed Eko. The company developed an interactive storytelling platform that created original content for customers including Coca-Cola, Samsung, IKEA, Shell, and Red Bull.
In 2011, Eko created an interactive video clip for musician Andy Grammer's song "Keep Your Head Up." The video was named "Most Innovative Video" of 2011 at the MTV O Music Awards. In 2013, Eko produced an interactive clip for Bob Dylan's iconic song "Like a Rolling Stone." The company also collaborated with Coldplay on their "Ink" music video.
More recently, Eko created interactive movies and web series, including the 2017 11-minute virtual reality film "Broken Night." The live-action 360-video short premiered at the Tribeca Film Festival and won awards in both Tribeca and Sundance film festivals. Eko also collaborated with MGM on a reimagining of 1983 hit sci-fi film WarGames.
In 2015, Eko produced a Mother's Day video for Coca-Cola, which can be viewed alternately from the point of view of different characters. In the web series "That Moment When…", an Eko production created as a collaboration with Sony, viewers follow a young unfortunate woman named Jill who keeps getting herself into awkward situations. The viewers can impact the way the narrative unfolds, choosing whether to help Jill escape the embarrassment or to stir her directly into the storm.
Before releasing the series, Bloch sent it to his family. His 24-year-old brother, he said, attempted to put the protagonist at the most embarrassing situations possible, while his mother attempted to help her as much as she could.
"Every narrative is a game that you don't get to play," Bloch said. "Every character has to get over a hurdle, make decisions, do a balancing act. This series is much more vibrant and playful."
Currently, Bloch said, the company is working on a series exploring viewers' ability to assess the credibility of information they are presented with, in a reference to the debate on fake news.
"If you don't believe something, it stops being real," he said.
He believes interactive videos have a place alongside non-interactive formats. Eko, he said, is interested in content that does not let viewers "shut their brains down."
"When my two-year-old daughter says 'hi' to Elmo, and he doesn't hear her back, it's sad. As adults watching a movie we say things like 'don't go there!' or 'kiss him already!'. Humans are not passive," he said.
He believes more creators are needed in the domain. To make the content appealing creativity must be put in the forefront, and for that to happen creators will need to be "in control," Bloch said.