SoftBank, Walmart, Airbus Partner with Israeli Startup Foundry Team8
Team8 announced it has raised a second $85 million fund from an "international coalition" of strategic partners in an event in New York City
Walmart, Japan's SoftBank Group International, and Europe's largest aerospace company Airbus Group SE are three of 14 multinational companies backing a new fund by Israeli cybersecurity startup foundry Team8 LLC. Team8 revealed the new fund, which began operating earlier this year, at an event at New York's Nasdaq exchange on Monday.

For daily updates, subscribe to our newsletter by clicking here.

Team8 has launched the fund with $85 million in committed capital from its strategic partners, which also include Singapore's governmental holding company Temasek Holdings (Private) Ltd., credit rating company Moody's Investors Service, Microsoft, Barclays PLC, South African IT company Dimension Data Holdings PLC, a subsidiary of Nippon Telegraph and Telephone Corporation (NTT), German insurer Munich Re Group, Canada's Scotiabank, Nokia, and Cisco. Also participating are existing investors Bessemer Venture Partners and Innovation Endeavors.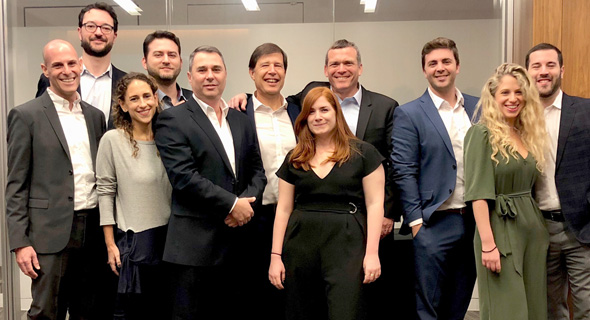 Team8's team. Photo: PR

Backed by what Team8 is describing as its "international coalition," the new fund will focus on developing technologies and startups in the fields of big data, resilient-by-design infrastructure, and artificial intelligence.

Based in Tel Aviv and New York, Team8 is a cyber think tank and a startup foundry with deep roots in Unit 8200, the Israeli military's NSA equivalent. It is headed by Nadav Zafrir, Unit 8200's former chief, who founded it together with Israel Grimberg and Liran Grinberg, both veterans of the unit. Yuval Shachar, an Israeli serial entrepreneur, and venture capitalist serves as executive chairman.

Team8 works with strategic partners to characterize industry cyber protection needs and develop related technologies, going as far as establishing, staffing, funding and raising capital for companies that go on to operate under Team8's umbrella. Since it was formed in 2014, Team8 has founded five companies, one of which still operates in stealth mode. These companies include cyber consulting company Sygnia Inc., announced to be acquired by Temasek last week for a reported $250 million; Industrial networks cybersecurity company Claroty Ltd., which has raised more than $90 million in funding from investors including Temasek, Rockwell Automation, and Aster Capital; Hysolate Ltd., which protects computer networks against cyber attacks by separating the operating systems for regular internet use and for sensitive operations; and Illusive Networks Ltd.

To date, Team8 and its daughter companies have raised $260 million in total, according to a company statement. Through its multiple operations, Team8 employs over 370 people worldwide. Last week, the foundry announced that retired U.S. National Security Agency (NSA) Director Mike Rogers will join it as a senior advisor.

Team8's strategic partners committed to investing $5 million to $10 million in the Seed rounds of eight of the foundry's future companies, Shachar said. Technology and security executives from each of the partners will also work with the companies on identifying problems to be solved, on technology pilots, and on setting up of new firms. Three startups are already operating under the umbrella of the new fund, Shachar revealed, declining to supply further details.

The new fund marks a shift in Team8's focus, from cyber protection to technologies related to retail, aerospace, insurance, and IT. In an interview with Calcalist on Sunday, the team spoke about the possibilities that could emerge from collaborating with unlikely partners. These included working with Moody's to develop a cyber ranking for companies and countries, and tackling unique challenges in data and food safety faced by Walmart. The U.S. retailer, Zafrir said, is already a client of some of Team8's cybersecurity products. The companies have been working together for two years, he said.

"We are looking at the world going forward from a number of technological angles—one is cyber, the second is big data, and the third is artificial intelligence," Team8 CEO Nadav Zafrir said in an interview with Calcalist Sunday. "This triangle holds tremendous potential in terms of innovation, from digital health to smart transportation. On the other hand, these technologies present great challenges in terms of information security, sharing the information, and regulation."

"In recent years we focused on cyber per se, looking deeply at the most significant risks we faced in the age of hyper-connectivity," Zafrir continued. "We now move into the age of cross-connectivity and artificial intelligence, and we want to focus not only on prevention but on what could happen and how to enable it."

"It is a new point of view," Zafrir said. "We want to be enablers, facilitators of information. We are broadening our gaze. We have to consider cyber as part of a whole and not as a standalone."

"Organizations sit on such large amounts of data that could completely change them, but they cannot leverage the data because they cannot put it on the cloud or give it to external factors," Yuval Shachar, Team8's executive chairman, told Calcalist Sunday. "With the new fund, we are looking at how to give organizations the freedom to share their most sensitive data in a way that does not risk them, their data, or their clients, and does not bother the regulator."

"We realized it is impossible to continue investing a lot of money in developing organizational infrastructures only to then invest more money in protecting them," Shachar said. "We want to build these infrastructures secured from the get-go."

The author was hosted by Team8 at the latter's New York City event.