Hologram of Deceased Israeli Leader Shimon Peres Inaugurates Eponymous Center Celebrating Israeli Innovation
On Thursday, Israeli Prime Minister Benjamin Netanyahu co-hosted the Israeli Innovation Summit together with Wang Qishan, the Vice President of the People's Republic of China
On Thursday, Israeli Prime Minister Benjamin Netanyahu co-hosted the Israeli Innovation Summit together with Wang Qishan, the Vice President of the People's Republic of China and the most senior Chinese official to visit the country in well over a decade. While Netanyahu was one of the keynote speakers, he was not the first Israeli prime minister to address the audience. The honor went to the late Shimon Peres, Israel's 9th president and the country's 8th prime minister, who was recreated in hologram form.

For daily updates, subscribe to our newsletter by clicking here.

The hologram of the late Israeli president and Noble Peace Prize laureate "read" part of his will, describing his vision for the Israeli Innovation Center at the Peres Center for Peace and Innovation in Jaffa, which was inaugurated at Thursday's summit.

In his keynote address, Netanyahu touted the power of innovation in creating bridges between nations and people. Israeli innovation may lead to "reconciliation and peace" with the Palestinians by strengthening ties with countries in the Arab world, some of which have recently been warming up to Israel, he said.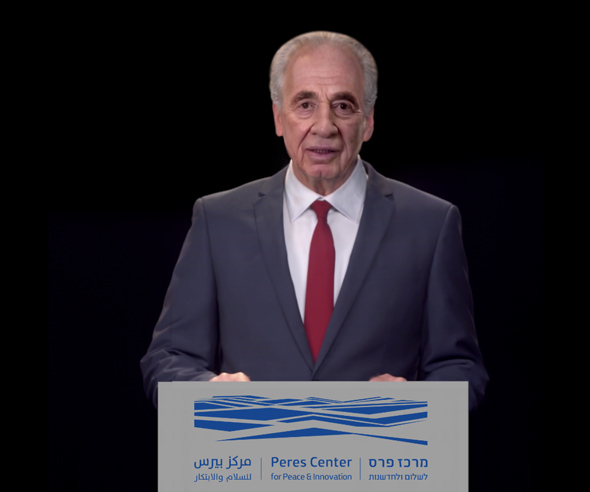 A hologram of Israel's 9th president Shimon Peres. Photo: The Peres Center for Peace and Innovation

In a tribute to the late Israeli president, the Chinese vice president said Peres was a close friend of China. Formerly the mayor of Beijing, Qishan was appointed as vice president in March 2018 and he is considered to have strong ties with Chinese leader Xi Jinping. His state visit to Israel coincided with a visit by U.S. Secretary of Treasury Steven Mnuchin, as part of which Israel and the U.S. agreed to appoint a joint task force to review and update bilateral tax agreements.

In 2014, the China-Israel Joint Committee on Innovation Cooperation was created to bolster Israeli-Chinese cooperation in several domains related to innovation and to provide a framework for joint ventures. 13% of the investment in Israeli tech come from China, and Israeli exports to China surpassed $2.8 billion in the first half of 2018, accounting for 8.7% of all Israeli exports, according to data from Israel's Central Bureau of Statistics.

In April, the city of Beijing announced a plan to open an economic mission in Tel Aviv that will serve as a satellite Beijing's Zhongguancun Science Park. The warm up in economic ties between the two countries also resulted in a sharp increase in the numbers of Chinese tourists visiting Israel and an increase in the number of direct flight routes operated by airlines. 114,000 tourists from China visited Israel in 2017, a 41% increase from 2016, according to the Israeli Ministry of Tourism.

The final keynote speaker at the event was Alibaba Group's co-founder and chair Jack Ma. After buying assets from an Israeli QR codes startup Visualead Ltd. in 2017, the Chinese e-commerce behemoth currently operates a local lab. In October 2017, Ma announced plans to set up offices in Tel Aviv as part of a $15 billion global research and development push.

Other prominent speakers at the summit included former Google CEO Eric Schmidt, former president of Paypal and a senior VP at Facebook David Marcus, and Amnon Shashua, co-founder and CEO of Jerusalem-based automotive tech company Mobileye, acquired in 2016 by Intel.