How Israel's Venture Capital Industry was Born
An excerpt from Shimon Peres' Autobiography No Room For Small Dreams
On September 26 2016, Shimon Peres, Israel's most senior politician, died at the age of 93, after suffering a major stroke. Mr. Peres served as Israel's prime minister and president, and was a Noble Peace Prize laureate for his role in negotiations between Israelis and Palestinians, which led to a short lived hope for reconciliation during the last decade of the previous millennium.

Mr. Peres was recognized for his diplomatic achievements and known for his role in building Israel's military prowess, its air force and the country's first nuclear facilities. But in his later career, Mr. Peres focused on turning Israel's military might into economic power.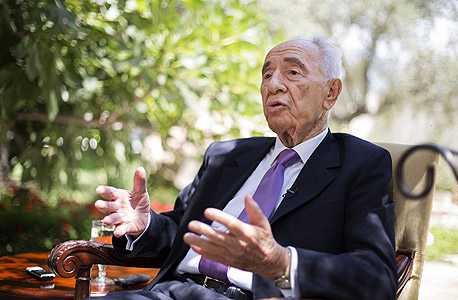 Late Israeli President Shimon Peres

"Our father's legacy has always been the future," his son Chemi Peres mourned him on that morning outside of the Sheba Medical Center near Tel Aviv. "Look to tomorrow he taught us," he added.

The following is an excerpt from his seventh book, "No Room For Small Dreams," published in Europe in September by The Orion Publishing Group Ltd. In this chapter, Mr. Peres is discussing his efforts to stabilize the Israeli economy in his role as prime minister in the mid 80s, and sowing the seeds of Israel's technology industry to be.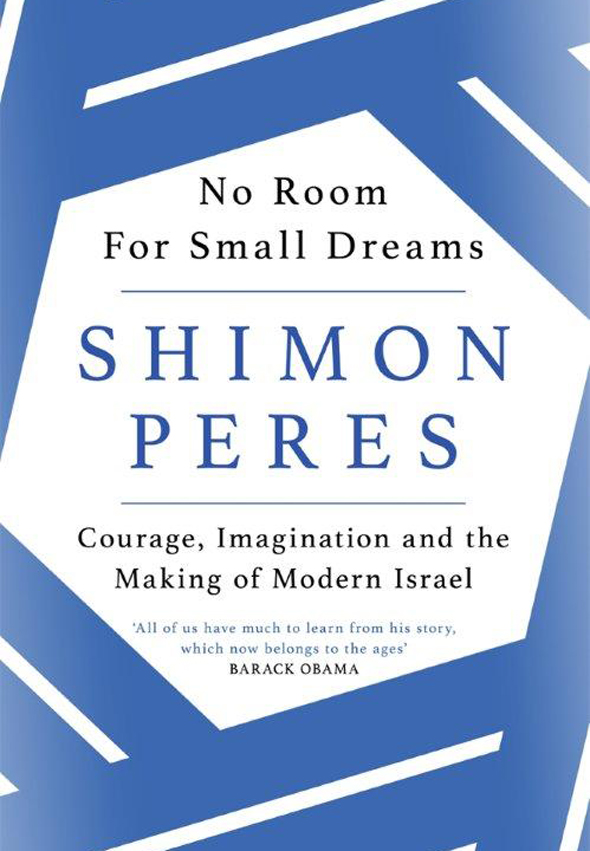 Cover of Shimon Peres' book No Room for Small Dreams
The speed of the healing gave me the room to breathe and to think about the critical next steps we would take as a state. We had rescued the economy, but in a sense we were saying goodbye to it, too. The socialist framework of our founding was no longer viable. We had to take our first steps toward capitalism—to embrace and then master a private-market approach. And yet despite starting anew, we weren't starting from nothing—far from it. We had a strong high-tech industry supported by extraordinary universities and research institutions. We had one of the most highly educated populations in the world, among them thousands of engineers with great talent and ambition. We had mandatory service in the IDF, where young men and women learned that questions are as important as orders, and that no title or rank can absolve someone from explaining his or her intentions and goals. And of course, we had our culture of chutzpah, a well-earned reputation as a nation of risk takers.
What we needed now was to cultivate these advantages in the private sector. We needed entrepreneurs ready to turn their ideas into start-ups; venture capitalists to invest in their ideas, while providing support and guidance; and multinational technology companies to use Israel as a critical hub, providing our workers with training and supply chains and partnerships.
First, we would have to free our engineers from their roles in government, creating the pool from which start-ups could hire, and giving the visionaries the chance to build something of their own. That work began in a way few would have expected—with a decision I made to kill a project I had nurtured from infancy, one I'd long considered a bold and noble dream.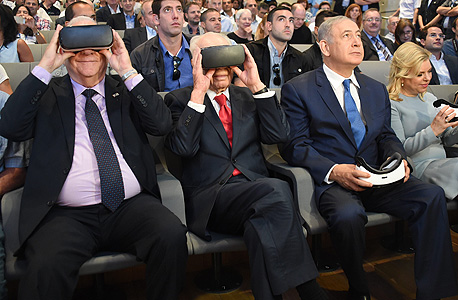 Late Israeli President Shimon Peres with Israeli President Reuven Rivlin and Prime Minister Benjamin Netanyahu
After the Six-Day War, France, which had been our principal military supplier, had turned its back on us. Charles de Gaulle, who had championed the Israeli-French relationship in the past, had suddenly found us to be an obstacle in his broader strategy. Having dedicated himself to improving relations with the Arab world, de Gaulle used the war in 1967 as reason to impose a temporary arms embargo in Israel, and in so doing, prove his commitment to his new trading partners. At the same time, Great Britain backed out of an agreement to sell tanks to Israel. We had no immediate way to replace our damaged fighter jets, no spare parts for the ones still in working order, and no sure way to replenish or supply frontline battle equipment. The United States had stepped up to fill the gap, but gave us cause for concern during the subsequent Yom Kippur War, when the replenishments they offered were inexplicably delayed. It had become clear that by relying on foreign governments for security assistance, we could also be held hostage to the changing tides of foreign politics.
When I became defense minister in 1974, resolving this dilemma was one of my highest priorities. I believed it was time for Israel to make an investment in our own military machinery several times greater than anything we had done. In 1980, we announced the centerpiece of that program—a long-range strike fighter known as the Lavi, which means "lion" in Hebrew. The jet was designed to be incredibly versatile, capable of traveling at high speeds over great distances with heavy payloads, and operated using the most advanced software systems of the day. The Lavi program seemed to capture the imagination of the Israeli people almost instantly, seen as a shining example of our boldness, a proof point that a nation as small as ours could still compete with the world's greatest economic powers.
But it wasn't to be. The Lavi would become a victim of the economic collapse, and an anachronism for the new economic order.
Stabilizing the economy had required, among other things, a massive cut to defense spending. Despite having the technical prowess to manufacture the plane, we no longer had the budget to dedicate to its development. Ending the project would be personally difficult, the jet having taken flight so many times in my imagination. But out of the failure, I could recognize opportunity. The Lavi project represented the economy of the past—a top-down, government-run operation. By canceling it we would send a crucial signal to world markets about the seriousness of our transformation, while creating a flood of newly available experts who would populate private companies and start up new ones. When I introduced the bill to kill the project there was a heated debate, and great shock that it was me, of all people, calling for the end of the program. But I knew I was doing the right thing. When the Lavi project was officially canceled, the deciding vote was mine.
Next, we would need to build a venture capital system. Venture capital firms provided more than just funding; they provided guidance on how to manage a company, how to grow it at scale and at speed, and how to market products to the world. While Israel had a long history of developing new technologies, our entrepreneurs lacked this kind of mentorship.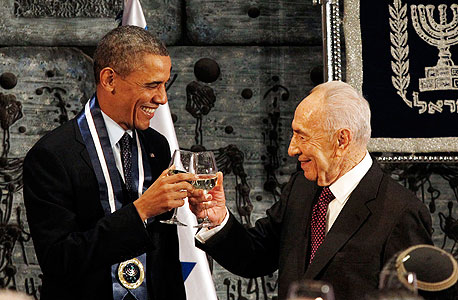 Shimon Peres with former U.S. President Barack Obama
At the time, Israeli companies could only secure venture funding from two sources. The first was a government grant-matching program run through the Office of the Chief Scientist, which, while well intended, was never able to provide new companies with sufficient funding to grow. The second was a similar program, the Binational Industrial Research and Development Foundation, known as BIRD Foundation, that had been created in 1977 as a joint fund between the United States and Israel. These grants, too, were modest, but they did something critical for us: they made it possible for Israeli companies to work closely with American partners—a joint venture in which the Israelis would invest in breakthrough innovations, while the Americans would invest in marketing and sales. Still, without a bustling private venture capital industry in Israel, it was clear that too few of our burgeoning companies would succeed, which meant too little economic benefit would accrue. Creating a venture capital industry would require two things: an internal effort to create local incentives, and an external effort to get investments flowing into the country.
The internal effort centered on a simple principle: the way to bring venture capital to Israel is to make Israel an unusually attractive place to invest. We had to change the equation. And so we designed two programs—one called Yozma (which means "initiative"), the other called Inbal (which means "tongue of the bell"). They were distinct in design but similar in their general ambition: the government would take ownership of most of the risk of an investment but cede all of the reward to investors. These programs ignited entrepreneurship in Israel in the early 1990s, creating the first wave of substantial venture capital.
Of course, creating this mechanism was only part of the solution. The other was finding the actual investors. This was the equivalent of a massive diplomatic effort, one I eagerly championed for decades. I saw it as my role—and obligation—to attract foreign investment to Israel. When I traveled to the United States, I pressed upon diaspora Jews that it was time to invest in Israeli start-ups, that it was up to them, as much as all of us, to transform the economy for good. As foreign minister, I established diplomatic relationships around the world in pursuit of economic collaboration. When I met with leaders in Europe, I pushed to connect Israel's state venture program to the government-supported funding mechanisms already in place in Europe. I spoke with those who might be open to importing Israeli technology for their own markets. When I met with the many hundreds of leaders of major companies, I would regale them with stories of the miracle of Israel, working to change their perception of the nation from only a tiny sliver of land in the desert to a cutting-edge technology powerhouse. In time, the strategy worked. The world's most respected venture funds started opening offices in Israel. Israelis began building dozens of venture funds of their own. I no longer had to convince anyone of the greatness of Israel's technology sector (not that it stopped me from telling the story). Israel's economic reputation finally matched its scientific might.