Japanese Insurance Company Sompo Opens Tel Aviv Innovation Hub
In its first year on the ground in Israel, Sompo intends to invest in one to three startups and enter collaborations with five to ten more companies
Japanese insurance company Sompo Holdings Inc. is scouting for Israeli startups for investment and acquisition, the company announced Sunday. Sompo is launching an innovation hub in Tel Aviv, which will serve as a local operational branch of the company's digital division.

For daily updates, subscribe to our newsletter by clicking here.

Sompo's Israeli arm will focus its attention on startups in the fields of insurtech, mobility, health and elder care, blockchain, home IoT, and cybersecurity, the company said.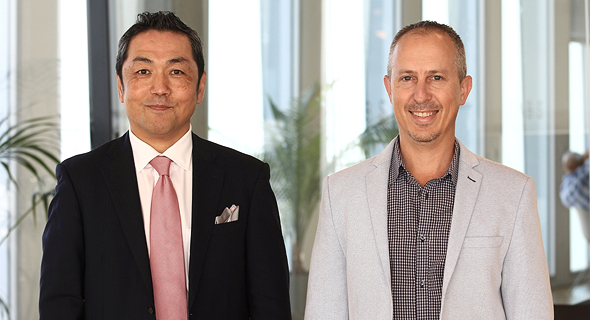 Koichi Narasaki (left) and Yinnon Dolev. Photo: Fabian Koldorff

In a recent interview with Calcalist, Yinnon Dolev, who will head Sompo's local activity, said the company seeks technologies that will help it improve its insurance products, and complement its current offerings, like sensing technologies and safety products. Sompo will also look to diversify beyond insurance technology, said Dolev, who comes to the company after leading GE's startup program in Israel.

The Tel Aviv hub, Sompo's third digital innovation center after Tokyo and the Silicon Valley, will initially employ eight people.

In its first year on the ground in Israel, Sompo intends to invest in one to three startups and enter collaborations with five to ten more companies. It intends to directly invest around $5 million in Israeli startups, also utilizing a corporate capital venture arm established jointly by Sompo and the American VC firm TransLink Capital, the company said.

Employees at the Tel Aviv hub will also work to promote collaboration between Sompo and Israeli academia, the company said.

"Israelis are good at bringing a company from one to 100. The Japanese know how to push it from 100 to one million," Koichi Narasaki, chief digital officer and managing executive officer at Sompo, said in an interview with Calcalist.

Narasaki oversees a team of 70 people in Japan, Silicon Valley, and now Tel Aviv. He joined Sompo after years of activity in Silicon Valley, and after serving as an executive at Japanese auto company Mitsubishi.

"I was brought on to bring a spirit of innovation to Sompo," he said. "We want to perform a complete digital transformation of our organization."

Sompo operates in more than 30 countries worldwide and reports 20 million customers.