Cannabis-Blockchain Company Proves Nothing is Out of Range with Gun Safety Holdings
Israel-based Fantasy Network sold its fantasy sports division to employees in October 2017, essentially becoming a shelf company
Israel-based Fantasy Network Ltd. is adding another hat to its ever-expanding arsenal as it struggles to decide just what kind of company it wants to be. On Sunday, the company announced it will invest $250,000 in exchange for an 8% stake in Locking Control Ltd., an Israel-based gun safety company. Established in 2013, the company develops Lockster, a gun holster that uses an electronic locking mechanism that relies on a control signal from an external device to release.

For daily updates, subscribe to our newsletter by clicking here.

On Saturday, an antisemitic motivated shooter opened fire in the Tree of Life synagogue in Pittsburgh, Pennsylvania, eventually killing eleven people. The incident drew widespread condemnation—and much finger pointing—from both sides of the political map, and reignited the ever-present debate regarding gun control in the U.S.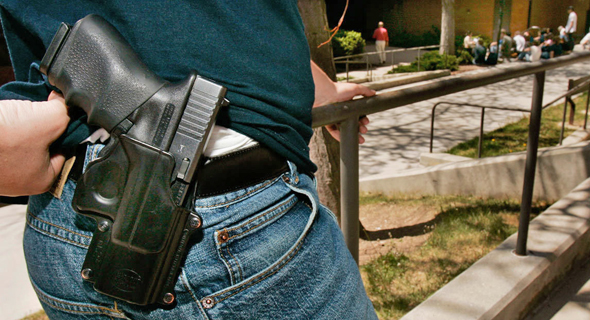 Guns. Photo: AP

According to Fantasy Network's statement, Locking Control is gearing up towards a pilot with the Israeli Ministry of Public Security, and also has orders from security entities in South America and South Africa contingent on the pilot's success.

Fantasy Network was up 0.76% on the Tel Aviv Stock Exchange on Sunday market close.

The company has gone through many changes in the past year. In October 2017, the company announced it would sell its fantasy sports division to employees, essentially becoming a shelf company.

In December, as blockchain stock hype took over the Tel Aviv exchange, Fantasy Network announced it has hired a blockchain advisor, sending its stock up 44% by that day's market close and an additional 80% up the next day. Investor frenzy—some companies jumped hundreds of percentages within days on vague announcements—led Israel's Securities Authority to announce it will not allow companies whose value is dependent on the bitcoin and similar digital currency to be included in the indices of the Tel Aviv Stock Exchange. Fantasy Network's stock dropped to its pre-announcement valuation by early February.

In June, Fantasy Network announced it will acquire 50% of Israel-based company Ophrein Gas Stations Ltd., to avoid being classified as a shelf company. Later in June, the company announced it is considering a pivot to Cannabis, plugging another hyped sector into its announcements.

In September, Fantasy Network announced a memorandum of understanding to invest $400,000 in a stock and cash deal in exchange for a 10% stake in Cbdigital Ltd., a company that markets cannabinoid products online. Fantasy Network was down 12.60% on the Tel Aviv exchange on that day's market close.