Lost? This Startup's Hand-Gripping Device Will Guide You
TrekAce's wrist-strap serves as a navigator that directs the wearer in real time, using vibrations
We've all been there: trying to hold coffee in one hand, a mobile phone in the other, engage in conversation and navigate, all at the same time. Multitasking can be challenging, especially when trying to get to a place you have never been to before. TrekAce Technologies Ltd. took this challenge by the hand: the company developed a tactile wrist-strap that serves as a navigator directing wearers using vibrations and sound notifications. Get a buzz on your left? turn left; on the right? just follow the vibration. A strong buzz? Stop where you're at.

For daily updates, subscribe to our newsletter by clicking here.

While the company originally aimed its wearable device for civilian uses, it is currently being used by several militaries and homeland security agencies, TrekAce's CEO Ronen Gabbay said in a Wednesday interview with Calcalist. When a flashlight or radio chatter can expose soldiers' locations, a tactile device that doesn't need to be constantly looked at makes sense, he said. Gabbay declined to identify the company's clients.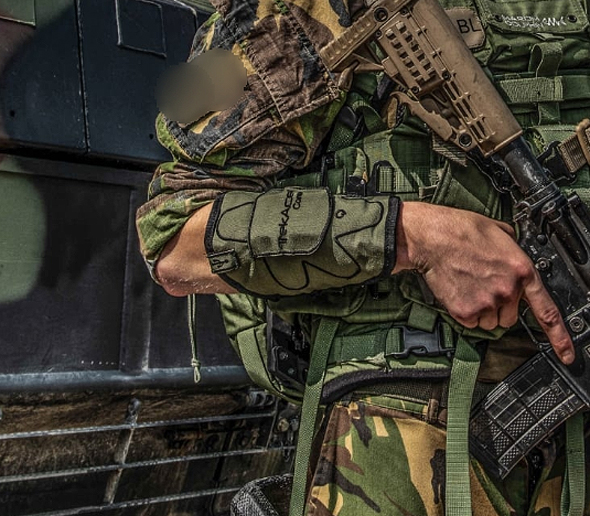 TrekAce's wrist-strap. Photo: PR

Founded in 2015, the Israeli company has offices in Kfar Saba, around 15 miles northeast of Tel Aviv. It plans to open a U.S. office next year. On Thursday, the company was announced as a runner-up in a startup contest co-hosted by the U.S. Department of Defense and the Israeli Ministry of Defense. The category: Urban Navigation Challenge.

The wrist-strap does not need connectivity to work. It can be pre-loaded with the relevant information through a USB socket. It also includes a screen displaying temperature, elevation, and speed. The strap can connect to the user's smartphone.

TrekAce currently manufactures each device on demand, but the company plans to start mass production and expand its offering to individual consumers next year. Consumer version prices will start at $600.

TrekAce has raised over $1 million to date from private investors, Gabbay said.