Veterans of Unit 8200 Are Feeling Like A Million Bucks (a Year)
When one of his subordinates got a job offer with an annual compensation of $1 million, this Israeli former cyber general knew he was in trouble
An annual compensation package of $1 million is a lot for anyone, but even more so for people who may never have worked in the private market in their lives. As the former head of Unit 8200—the Israeli military's equivalent to the NSA and British GCHQ—brigadier general (ret.) Ehud Schneorson had a tough challenge holding on to talent when such an offer was extended to a subordinate.

For daily updates, subscribe to our newsletter by clicking here.

One cannot just casually refuse such an offer, and in all likelihood, it requires a serious discussion with life partners, Schneorson said Monday, Calcalist's eighth digital and mobile conference INSPIRE, held in collaboration with Israeli Bank Hapoalim.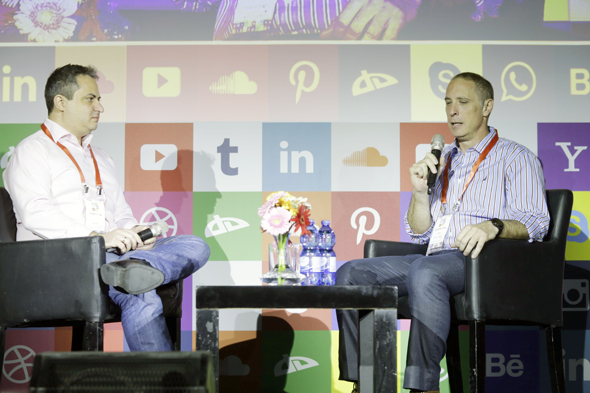 brigadier general (ret.) Ehud Schneorson. Photo: Amit Sha'al

The offer came from a tech company operating in Israel, he said.

Schneorson was appointed as head of the unit after decades of service in Israeli signal intelligence, cyber operations, and special ops. In April 2017, he retired from command. In September, venture firm Blumberg Capital announced his appointment as a managing director.

Two Israeli cybersecurity senior executives with close ties to the military unit said they were aware of at least one case in recent years that fits the details described, speaking on terms of anonymity. In the case he is familiar with, one of them said, a total annual compensation of $1 million was offered to an in-service person, but the sum included an annual bonus and retention bonuses.

Known for launching the tech careers of many of its alumni, Unit 8200 is one of the Israeli military's most populous divisions. Companies founded by alumni include NYSE-listed, U.S.-based Palo Alto Networks, Nasdaq-listed Check Point Software Technologies Ltd., and NICE Systems Ltd.

Veterans are regarded as prized employees.

Possibly an anecdotal outlier, the $1 million offer marks an extreme market reality that more often pertains to closer to average salaries, and to a wage gap between veterans and non-veterans.

Unit veterans make 20% more than the industry average in the Israeli market, according to data by GotFriends Ltd., a company specializing in tech talent recruitment.

Some 80% of the unit's soldiers receive job offers three months or more before their service ends, according to GotFriends.

According to data published by see.V, an Israeli placement company specializing in tech and startup recruitments, the average annual compensation of software professionals in Israel totals NIS 319,728 (approximately $91,000), 2.5 times higher than the average local wage.

Some Israeli tech executives, even among those hailing from the unit, try to curb the hype. Their claim: graduates fresh out of university with no military technology training can be just as talented, and come from more diverse backgrounds. For example, Arabs with Israeli citizenship rarely serve at the unit.

Despite these claims, demand for unit veterans remains high and a burgeoning cybersecurity industry and a global talent crunch combine to push salaries up.

Between 2009 and 2016, the average salary of cybersecurity employees in Israeli technology companies rose 37.5%, according to data by Israel-based human resource management firm Ethosia-Human Resources.

Some of the unit's soldiers were offered signing bonuses of up to NIS 100,000 (around $28,560), according to military officers who spoke to Calcalist on conditions of anonymity.

As the allure of the private companies increases, Unit 8200, much like its U.S. counterpart, has found it increasingly difficult to hold on to its best talent, Schneorson said.

In an attempt to make the service more appealing, the unit's command went as far as tailoring career paths for some of the more senior unit officers, Schneorson stated.

As part of another initiative, career soldiers in cyber and tech units can work at pre-selected tech companies and take a leave-of-absence for up to two years .

As a way to "make the dreams" of some of the more senior unit officers "come true", the Israeli military uses its power and connections to get some of its selected officers into lucrative U.S. schools including MIT, while also paying for their tuition, Schneorson said. In exchange, the officers agreed to extend active service once out of school for a pre-determined number of years.

And the $1 million offer?

If identified correctly by one of the anonymous industry executives interviewed by Calcalist, the person to whom the offer was extended to left active service and joined a local outpost of a multinational cyber threat analysis company as a senior executive.