Western Digital Takes Leap of Faith with Israeli Jewish Ultra-Orthodox Female Coders
A new initiative seeks to get Orthodox coders into high-paying tech jobs. One problem: searching for engineering solutions on a Kosher internet
Israel's lauded tech industry has a deficit of some 8,000 software professionals, leading local companies to expand their search for talent beyond the usual population sectors—and Jewish ultra-Orthodox women may be the next sector to be tapped.

For daily updates, subscribe to our newsletter by clicking here.

Around 1,000 ultra-Orthodox women complete associate software engineering programs in Orthodox seminars in Israel each year, and few hundred find employment in the local tech industry through specialized employment agencies. Jobs outsourced through the agencies are most often low-level, mainly development and quality-assurance services, providing the women with salaries of around NIS 5,000 (around $1,350), below the minimum monthly wage in Israel, and with virtually no promotion opportunities. According to government data, only 0.4% of tech high earners in Israel are Orthodox and ultra-Orthodox women.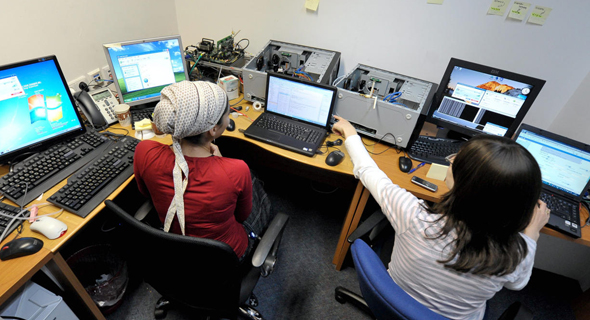 Jewish Orthodox women in tech. Photo: Guy Asayag

It's a straightforward compromise. The women receive a tailored work environment, that enables them to observe rabbinical edicts; the employers get grunt workers at bargain prices.

But some players in the market are trying to break the glass ceiling and get ultra-Orthodox women, and the ultra-Orthodox sector in general, into the local industry on a more equal footing.

KamaTech, a nonprofit organization established to champion the cause, has just concluded a program that saw 18 women hired as regular employees at a local outpost of a technology multinational in central Israel. Six were hired after a skills-assessment process, and 12 after a targeted three-month-long bootcamp program.

Six were hired after a skills-assessment process, and 12 after a targeted three-month-long bootcamp program.

The process is far from straightforward. Only one CEO has so far agreed to pick up the gauntlet and try to hire these women as regular employees: Western Digital's Israeli site manager Shahar Bar-or. The company employs some 1,000 people in the country across three research and development centers.

The initiative was born out of need, as a way to address a talent shortage, Bar-Or said in an interview with Calcalist last week.

Originally intended for engineers with academic degrees wishing to add domain-specific knowledge that can land them a job at Western Digital, the bootcamp program was later tailored specifically for the ultra-Orthodox coders: Western Digital already canvassed universities for potential employees, Bar-Or said, but a meeting with KamaTech co-founder Moshe Friedman made the company take a leap of faith.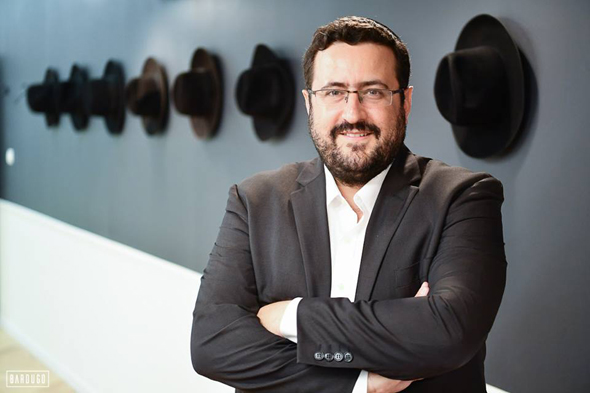 Moshe Friedman. Photo: Israel Bardugo

A few weeks later around 300 seminar graduates arrived at the company's Israeli headquarters for initial tests in the subjects of math, coding, and English.

The first impression was somewhat disheartening. The graduates' knowledge was significantly below what was expected, Bar-Or said.

"They arrive ill-prepared, and if you compare them to someone who comes with a different education the gap is telling," he said. Given the gap, Bar-Or said, the low wages that are the standard in the industry make sense.

Eventually, six women were hired off the bat on the assumption that they could close the knowledge gap at work. Another 18 were put through an intensive three-month bootcamp. The training was not carried out with the intention of putting them at the same level as a university graduate, Bar-Or explained, but rather give them the self-learning tools that will enable them do it on their own after beginning work. Of those, 12 were eventually hired, at salaries equal to those of other company employees.

"We were told there are many options for promotion within the company. I'm going to give it my all to succeed," said Hannah Kantor, 21, one of the bootcamp graduates slated to begin working at Western Digital in a few weeks. She is more excited than nervous about starting work, she said. The program caused quite a stir among the seminar graduates, she said, as high-level tech job opportunities are hard to come by in the community.

"KamaTech has tried to crack the issue of seminar graduates for several years now," said in an interview Sari Roth, deputy-CEO of KamaTech, and an ultra-Orthodox female entrepreneur who founded website communication startup Bontact Ltd. which she heads.

"There's no precedent for a woman graduating the seminar and integrating into a multinational tech company," Roth said. "I cannot begin to describe the impact it had on the community."

As part of the process with Western Digital, KamaTech worked alongside the ultra-Orthodox community to get a rabbinate stamp of approval for the initiative. Each side—both the community and the tech multinational—has to decide which issues are non-negotiable, and which are something they can compromise on. An example to one such question: can an ultra-Orthodox woman sit next to a secular woman at the office?

There were surprisingly no non-negotiable issues, Friedman told Calcalist. Internet access took central stage. The Jewish Orthodox community in Israel uses "safe internet" providers that filter content according to rabbinical directives. "The rabbis did not want them to have unlimited access to the web, but the company said they must be able to conduct online searches. We found a solution of a partial content block, that did not hinder their work ability but also satisfied the rabbis."

Bar-Or considers the seemingly onerous process a basic aspect of the need to diversify. "We have no intention of changing the beliefs and lifestyle of our employees," he explained. "When employees asked us for soy milk and scooter parking spaces we happily obliged. If we can find the necessary talents among ultra-Orthodox women, we'll make the necessary adjustments."

Bar-Or said he noticed the heads of the seminars were worried about the non-homogenous work environment, and its possible effects on the employees' ability to maintain and hold on to an ultra-Orthodox lifestyle.

"It's clear to me that if they change their lifestyle it will be associated with us, and the whole project will break apart," he said.

Roth echoes the sentiment. "If a seminar graduate is recruited by a tech company, and as a result alters her lifestyle, for us that is not a success, but a failure," she said.

The rabbis, on their part, accepted that some compromises will have to be made, such as mixed-gender meetings, secular male supervisors, and the need for employees to be able to work with anyone regardless of gender or religious leanings. "They acquiesced happily. We had many worries but they were proved unfounded," Bar-Or said.

While Friedman acknowledges that the employment framework was specifically tailored to Western Digital, and would potentially need to be redressed for each tech company wishing to join the initiative, he thinks the potential problems would not be significantly different. "Most companies have a similar DNA," he said.

"None of the women or the rabbis we met with asked us to change the management style of the company," Bar-Or concluded. "You can always either try to pile up hurdles, or opt for tolerance. In my opinion, that's the kind of maturity that's needed when considering employment diversity. Not everyone has to conform themselves to the same DNA."