Russian Multinational Yandex to Launch Yango Taxi Hailing Service in Israel
Yandex' main rival in Israel is Gett, the local taxi hailing market leader. Gett and Yandex are already competing on the latter's home turf
Russian multinational technology company Yandex N.V., which operates Russia's most popular internet search engine, announced Friday its intention to roll out its taxi booking service in Israel under the brand name Yango. Yandex did not say when the service is set to launch. Yango service will be offered initially in central Israel.

For daily updates, subscribe to our newsletter by clicking here.

Israel is the third country where the Yango service is set to launch, following Ivory Coast in October and Finland in early November.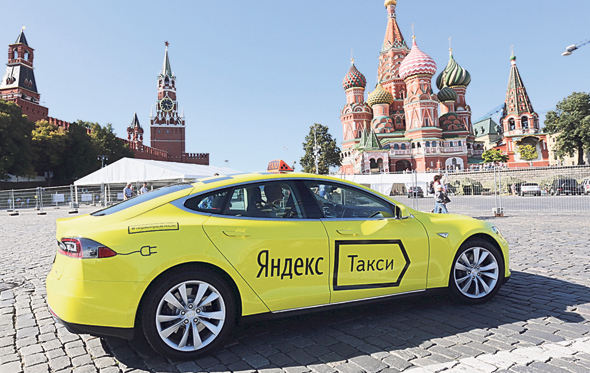 Yandex taxi. Photo: Bloomberg

Calcalist first reported on Yandex's expected taxi service launch in September, after the company posted a job listing on LinkedIn, looking for a general manager for the service in Israel.

Several Russian publications had reported the move earlier this year, stating that Yandex has already begun signing drivers to the service in Israel.

Yandex' main rival in Israel is Gett, the local taxi-hailing market leader. Gett is already competing with Yandex on the latter's home turf, having launched its service in Russia in 2015.

According to Aram Sargsyan, regional general manager of EMEA and the Russian commonwealth at Yandex Taxi, Yandex is treating the Israeli launch of Yango as a pilot. If successful, Yandex could decide to launch additional services here, such as delivery and shuttle services, he said in an interview with Calcalist.

Israel currently has around 21,000 taxis in operation. According to estimates by the Israeli Ministry of Transportation, around 72 million special taxi rides were made in Israel in 2017, at an average price of NIS 69, meaning the local taxi market turnover was around NIS 5 billion ($1.38 billion) in 2017.