In an Effort to Avoid Elections, Netanyahu Dodges His Government, Own Party's Officials
The Israeli prime minister canceled a series of meetings Sunday in what political commentators say is an effort to avoid calling early elections
Israeli Prime Minister Benjamin Netanyahu canceled a series of scheduled meetings Sunday in an apparent effort to avoid calling early elections, according to people familiar with the matter who spoke to Calcalist on condition of anonymity. On Sunday morning, Netanyahu canceled a meeting with ministers from his own Likud party. The prime minister also called off his weekly meeting with the heads of the coalition. Additionally, Netanyahu postponed his meeting with Finance Minister Moshe Kahlon, from 9:30 a.m. Sunday to 6:30 p.m.
For daily updates, subscribe to our newsletter by clicking here.
Israel's Defense Minister Avigdor Lieberman resigned on Wednesday, announcing also that his nationalist Yisrael Beiteinu party will retire from government. He then called for a general election to be held in the country at the earliest date possible. Lieberman said he resigned in protest of the ceasefire announced last week following two days of fighting between Israel and the Palestinian factions in Gaza. Without Lieberman and his party, Netanyahu and his Likud-led coalition now lead a 61-59 majority in the 120-seat Knesset.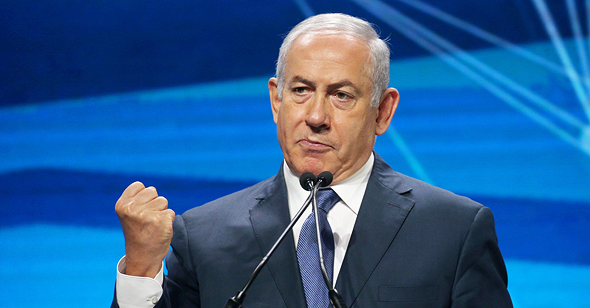 Israeli Prime Minister Benjamin Netanyahu. Photo: Yariv Katz

The reason Netanyahu canceled his meetings is that Likud party leaders were expected to voice their support to advance to early elections, these people said. Netanyahu is planning to exert pressure on Kahlon this evening not to advance to elections at this time, they said, as Netanyahu wants to postpone the elections to a later date.

Kahlon, on his part, said in a statement Saturday that Netanyahu will have to "pull a bunny from his hat" to avoid going into early to elections, as it is impossible to have a coalition with 61 members of the Knesset. Israeli laws dictate that 61 seats are the minimum permissible amount for a coalition, but a single-seat majority is not considered a strong or stable coalition.

Minister of Education Naftali Bennett, of the religious nationalist Jewish Home party, said on Saturday that elections should be held in the absence of a strong Knesset majority, in light of Lieberman's resignation.