Let None Go To Waste: This Startup Fuels Cooking by Using Natural Toilet Gas
These bio-toilets have already been installed in off-grid communities in Israel and in a Guatemalan hospital
Today is world toilet day.

Appropriately, HomeBiogas Inc., a company manufacturing small systems that convert human waste into renewable cooking fuel, is launching their HomeBiogas Bio-Toilet today. The toilet solution enables human waste to be converted into cooking fuel in a way that does not require access to sewers or water grids.

For daily updates, subscribe to our newsletter by clicking here.

2.8 billion people, or 38% of the world's population, lack access to sewers,

according to a report published by the World Health Organization and UNICEF in 2017. Poor sanitation from defecation in open areas is linked to diseases such as cholera and is the cause of hundreds of thousands of deaths every year.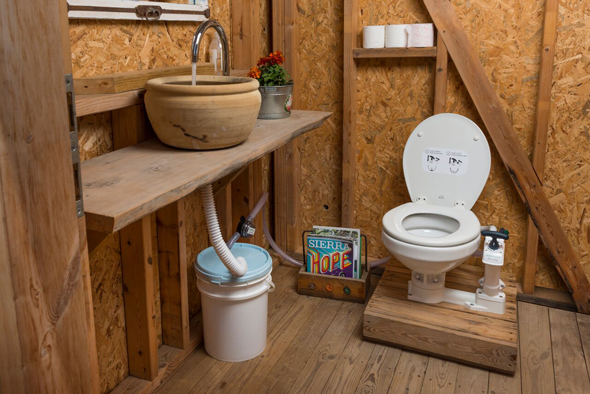 HomeBiogas off – grid Bio-Toilet set up . Photo: PR

As of 2017, 3.8 trillion liters (a trillion gallons) of excrement are produced worldwide each year. According to a 2015 report by the United Nations University in Hamilton, Canada, if all the human feces produced annually were converted into biogas, electricity could be provided to more than 138 million households.

In 2013, the U.N. General Assembly declared November 19th as World Toilet Day, with the goal of sanitation for everyone and an end to open defecation due to lack of toilets, by 2030.

HomeBiogas CEO Oshik Efrati, said the goals set by the U.N. challenged the company. To get a deeper understanding of the issue, Efrati said he personally accompanied a woman who travels 3 miles by foot daily to the desolate wilderness where she defecates.

"On the long walk there, she explained to me how unhygienic open defecation is and that she and other women sometimes fears for safety, as they are vulnerable to any bypassers late at night," he said in a statement.

The compact Bio-Toilet is easy to transport and can be carried on the back of a moped, according to the company. It doesn't require a technician for installation or maintenance and can also be utilized in disaster areas, HomeBiogas said.

Whereas traditional compost toilets require manual emptying, a manual pump dispatches the waste directly to the HomeBiogas appliance where it is treated and turned into cooking fuel.

These bio-toilets have already been installed in off-grid communities in Israel, and in the local hospital of Jalpatagua, Guatemala.

"As far as the user experience, it's just the same as that of an ordinary bathroom," Efrati said.