Netanyahu Flying to Chad to Resume Relations With the Muslim-Majority African Country
Israeli Prime Minister Benjamin Netanyahu will fly to N'Djamena, the capital of Chad, to announce the recommencement of diplomatic relations with the Muslim-majority African country
Israeli Prime Minister Benjamin Netanyahu will fly to N'Djamena, the capital of Chad, to announce the recommencement of diplomatic relations with the Muslim-majority African country, his office announced Tuesday.

For daily updates, subscribe to our newsletter by clicking here.

According to the statement, Netanyahu "will fly to Chad soon" to announce the resumption of ties between the two states, together with Chad's President Idriss Deby.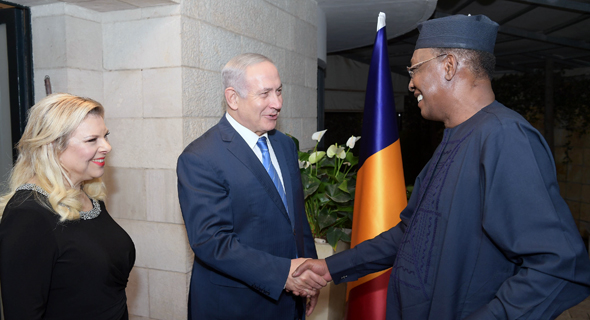 Idriss Deby and Benjamin Netanyahu. Photo: Amos Ben Gershom, GPO

Chad had severed its ties with Israel in 1972.

Deby landed in Israel Sunday for the first visit to the Jewish State by a Chadian head of state.

Netanyahu's visit to Chad will be the first visit by an Israeli Prime Minister to the African country.

Al Jazeera reported that Chad's Alliance of Civil Associations for Jerusalem, a group made up of 22 civil organizations, issued a statement condemning Deby's visit to Israel.