Yandex's Yango Taxi Hits Israel's Roads
The company, which uploaded its Hebrew-language app to Google and Apple's stores last week, wants to challenge local market leader Gett
Russian multinational technology company Yandex N.V., which operates Russia's most popular internet search engine, has now rolled out its taxi booking service Yango in Israel. The company uploaded a Hebrew-language version of its app to the Google and Apple stores last week.

For daily updates, subscribe to our newsletter by clicking here.

Calcalist first reported the planned expansion in September, with Yandex officially confirming the report in November. Yango became available in the Ivory Coast in October, and in Finland in early November.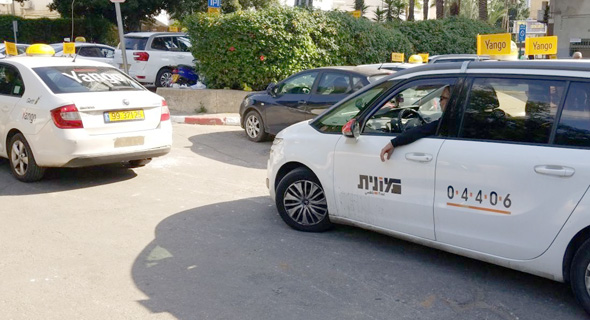 A Yango taxi in Israel. Photo: Meir Orbach

In an interview with Calcalist, Aram Sargsyan, regional general manager of EMEA and the Russian commonwealth at Yandex Taxi, said Israel has a shortage of taxis during rush hours, which the company is hoping to help ease.

Israel, which has a population of almost 9 million, currently has around 21,000 taxis in operation country-wide.

Until now, the Israel market has had only one main player, Sargsyan said, referring to Israeli taxi-hailing company Gett, which controls the local market. The two have been in direct competition with each other since 2015, when Gett launched its service in Russia.

Previous attempts to compete with Gett on its home turf have failed, Sargsyan said, but Yandex has "much experience" penetrating new markets. "I believe we have a good chance of succeeding."

Uber also operates in Israel, though in a limited capacity following regulatory clashes with the Israeli Ministry of Transportation. The company works locally only with licensed taxis. Uber has had a joint venture with Yandex in Russia, Kazakhstan, Azerbaijan, Armenia, Belarus, and Georgia since 2017, following three years of rivalry and price wars that came about following Uber's 2014 entrance into the Russian market.