Fosun Mulling Float of Dead Sea Cosmetics Manufacturer Ahava, Exec Says
In 2016, Fosun paid $77 million for a controlling share of the Israel-based company, which develops and manufactures skin care products
Fosun Group is planning to float Israel-based Dead Sea cosmetics manufacturer Ahava in the future, according to Tom Zheng, managing director of the conglomerate's cosmetics group.

For daily updates, subscribe to our newsletter by clicking here.

In 2016, Fosun paid $77 million for a controlling share of the Israel-based company, which develops and manufactures skin care products using minerals and raw materials extracted from the Dead Sea.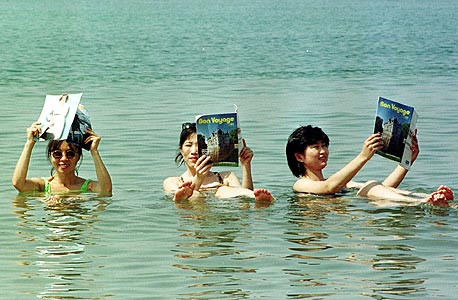 Chinese tourists at the Dead Sea. Photo: Reuters

Since Fosun acquired Ahava, the latter's sales increased by 15% annually, Zheng said in an interview with Calcalist held late November. The company is aiming to make Ahava one of the top 10 luxury labels in China in terms of sales, he said, by branding it as both high-quality and technologically innovative, he said.

Tourism to Israel from China has increased by 154% between 2015 and 2017, according to data from the Israeli Ministry of Tourism, and many of those visiting make sure stop at the lowest place on earth and float on its mineral waters. All Chinese students learn about the Dead Sea during their school years, Zheng explained.

Going forward, Ahava will focus on anti-aging technology, with a focus on personalization, he said, adding that the company also has in the works a collaboration with a Fosun-owned Korean cosmetic brand, to develop high-end face masks using Ahava formulations.