U.S. Imposes Sanctions on Former Israeli General for Arms Trade with South Sudan
Update: Israel Ziv, the former general, was interviewed on Israeli television Sunday and stated the accusations are baseless and that he hasn't "even sold scissors there"
Update, Monday Dec. 17: Retired Israeli Maj. Gen. Israel Ziv who the U.S. imposed sanctions on last week denied accusations that he or his company sold arms to either side in the South Sudanese civil war. Ziv was interviewed on Israeli television Sunday and stated that he hasn't "even sold scissors there."

Ziv also said that he asked the Israeli defense ministry to investigate these accusations.

For daily updates, subscribe to our newsletter by clicking here.

The U.S. imposed sanctions on Ziv and two Sudanese businessmen, due to their roles in the civil war in South Sudan. The U.S. Treasury Department said in a statement Friday that the United States will continue to act against those "whose actions have the purpose or effect of expanding or extending the conflict in South Sudan".

The statement said Ziv, who once served as the commander of an elite Israeli commando unit, supplied weapons and ammunition to both sides in the civil war. Ziv used Global N.T.M Ltd. (known as Global CST), an agricultural company which he owns, as a platform through to sell arms worth $150 million to the South Sudanese government, "including rifles, grenade launchers, and shoulder-launched missiles."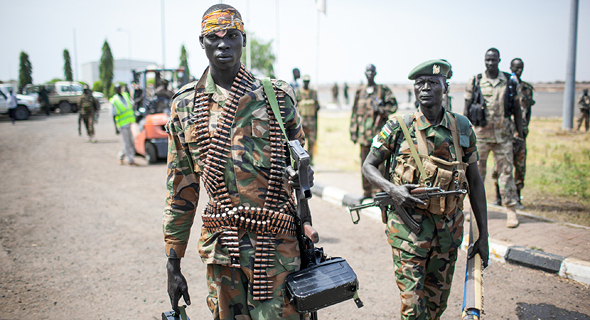 South Sudanese soldier carries a machine gun (illustration). Photo: Shutterstock

In an interview with Israeli army radio in December 2016, Ziv insisted that he does not sell arms to countries in Africa and "never will." He asserted that Global CST was only involved in helping agricultural and infrastructural efforts.

The statement also stated that Ziv reportedly prepared to organize attacks by mercenaries on South Sudanese oil fields and infrastructure, in an effort to "create a problem that only his company and affiliates could solve."

In addition, the U.S. said it had imposed sanctions on six business entities owned or controlled by Ziv and his Sudanese business partner, Obac William Olawo.

The U.S. is "intent on holding accountable those who profit off the misery and suffering of the South Sudanese people," said Sigal Mandelker, Under Secretary of the Treasury for Terrorism and Financial Intelligence.

South Sudan has been entangled in civil war since 2013, just two and a half years after it became the world's newest country and gained independence from Sudan. Approximately382,000 people have died and more than 4 million have been displaced, despite the presence of 17,000 U.N. peacekeeping forces.

"The United States' decision to sanction these individuals should serve as a warning to all to stop such behavior immediately and respect the peace process and the UN arms embargo," The U.S. Department of the Treasury explained in a statement.