The Gender Wage Gap is Bigger in Israel
Women in Israel earned 69% of the average male monthly salary in 2017. The global average gender wage gap for 2018 stands at 19%
The gender wage gap in Israel is larger than the global average. Women in Israel earned 69% of the average male monthly salary in 2017, according to a new report published by the Israeli Central Bureau of Statistics on Monday. According to the International Labour Organization's 2018 report, the global average wage gap between genders stands at 19%.
For daily updates, subscribe to our newsletter by clicking here.
The average hourly wage before taxes in Israel was NIS 53.2 ($14.14) for women, while men raked in an average of NIS 63.2 ($16.80), despite women accounting for 49% of the Israeli workforce.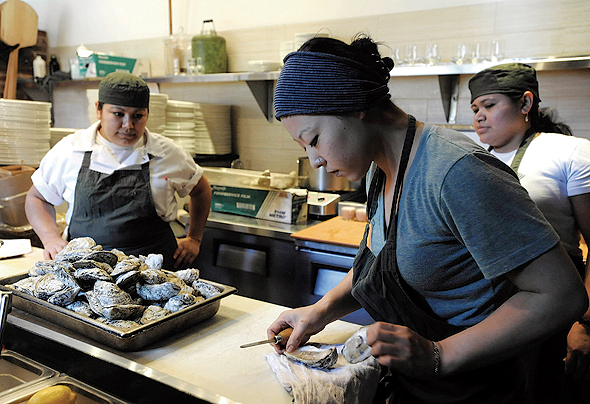 Women working. Photo: Getty Images
The wage gap increases when comparing average monthly salaries. The average monthly salary for men amounted to NIS 11,928 ($3,170), compared to the average monthly income for women, which stood at NIS 8,188 ($2,176).
The report states the average overall monthly income in 2017 was NIS 10,095 ($2682.85). Israel's workforce numbered 3.385 million.
The wage gap is not consistent across all fields. Women actually out-earned men, on average, as office administrators, architects and in the civil engineering spheres. The field with the biggest discrepancies between genders was academia. Male academics earned an average of NIS 97.6 ($25.94) per hour, while their female colleagues raked in a mere NIS 74.3 ($19.75) per hour.
According to a report published by Israel-based market research firm IVC Research Center Ltd. in April, women accounted for just 7% of the founders or co-founders of Israeli startups, or 490 out of 7,100 companies from 2000 to 2017. Overall, IVC recorded 5,628 financing deals, with just 318, or 5.7%, made by women. The median amount of capital raised by male entrepreneurs per round was $2 million, compared to $1 million by their female counterparts.