Interview
After Launching Services in 21 Countries, Via Founders Come Home to Tackle Israeli Traffic Jams
Israel's notoriously congested roads sparked the idea that led the founders of carpooling firm Via to start the company. Now they're planning to launch a pilot in the Tel Aviv metropolitan area
Israel's notoriously congested roads sparked the idea that led the founders of carpooling firm Via Transportation Inc. to start the company, according to co-founder and chief technology officer Oren Shoval.

For daily updates, subscribe to our newsletter by clicking here.

"I was sitting at a taxi van in Tel Aviv on a Thursday night, and all seats were taken, of course," he said in an interview with Calcalist held earlier this month. Both Shoval and Via co-founder and CEO Daniel Ramot are Israelis, and the company operates a development center in the country.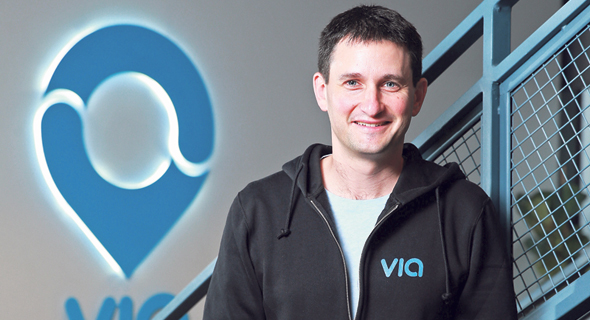 Oren Shoval. Photo: Orel Cohen

The driver, as Shoval tells the story, called for another van, as more passengers were expected to come on. If all the passengers would have just let the transportation company know where they wanted to get on in advance, managing the fleet would have become so much more efficient, Shoval thought.

"We all already have this device on hand, an amazing technological infrastructure that connects us and knows where we are at all times," he said, pointing at his smartphone.

The New York-headquartered company founded in 2012 set out to develop an operating system for public transportation from the get-go, he said.

Now, six years after initially launching its service in Manhattan, Via is going back to its roots, tackling the thorny problem of Israel's congested roads.

Via-operated and Via-powered fleets pick up passengers who hail vans through the company's app. The company's algorithms compute the best route for each van, so it can pick up several passengers headed the same way.

In November, the company announced it will start a pilot for its service in the Tel Aviv metropolitan in the first half of 2019. The company has partnered with Israeli public transportation company the Dan Bus Company, which will use Via's technology to operate its own fleet

Founded in 2012, the company raised $387 million to date. It operates in 32 cities and 11 countries, applying different modes of operation in different places. In Berlin, it operates an electric car fleet together with Daimler AG's van division Mercedes-Benz Vans. Daimler is also an investor. In Arlington, Texas, Via-optimized buses replaced the city's public transportation. In central Israel, passengers will be picked up at existing bus stops, but the vans will use Via's traffic navigating algorithm.

Q: You launched your service first in Manhattan, which already has a functioning public transportation system. Was that a challenge?

A: Not everyone can take the subway or the bus. New York has traffic congestion, and while projects to set up new public transportation lines take up a long time, population density changes quickly. The Second Avenue Subway just completed was decades in the making, the population boom in Brooklyn happened much more quickly. Public transportation systems do not respond fast enough to such changes.

You also need to take into account time-specific events that can impact traffic, like shows or sports events. What's more, at different times in the day, different routes are required.The subway is an amazing solution for bringing people into the city, but the last mile also needs to be solved.

Unlike other ride-hailing companies, Via has it easy when it comes to working with cities and local municipalities, according to Shoval.

"We enable cities to make quick changes–the infrastructure we need is technological, not physical."

While in the past Via had to pitch its services to municipalities and regulators, today the initiative comes from the other side, he said.

In Israel, the invite came from the country's Ministry of Transportation.

Q: Why have your own fleets when you can be a pure-play technology vendor?

A: the automotive world is very varied, and we believe flexibility offers the most potential. Our technology is evolving, and each city offers a different opportunity in terms of operation and business model.

Via only needs a few days to analyze a city before it can launch its service, he said.

The company works with city halls to decide on an operative plan. In a Via pilot recently started in Singapore, the local government predefined the exact streets in which it wants the fleet to operate, and Via adapted its system to the demands.

The race to fully autonomous driving—where Israeli companies and technologies are punching above their weight—has also led companies to invest hundreds of millions of dollars in companies developing ride-sharing technology, Via among them. Shoval feels more attention should be given to another innovative automotive avenue—the electric vehicle, which he says is a massive revolution in terms of environmental impact.

"The challenge of the autonomous vehicle is that currently the technology cannot be scaled up. The technology for electrical vehicles exists, and we can work with its current limitations," he said.

Predetermined limits placed by cities can also be instrumental in bringing autonomous cars onto urban roads, he said. Well-marked designated lanes can decrease the likelihood of pedestrian crashes, and can potentially bring autonomous cars onto city streets much faster than other models.